The Masters: A Hole-by-Hole History of America's Golf Classic (Hardcover)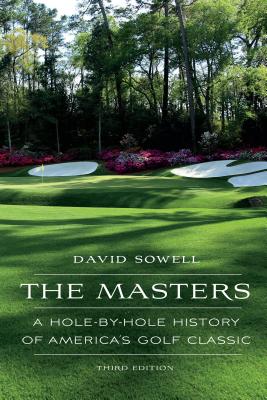 $32.95

Usually Ships in 1-5 Days
Description
---
"An entertaining read that enthusiasts will enjoy."—Library Journal
Revered as the most prestigious tournament in golf, the Masters commands international attention, even among nongolfers. The first and second editions of The Masters: A Hole-by-Hole History of America's Golf Classictook the unique approach of tackling Augusta National hole by hole. Each hole had its own chapter, with colorful stories on the greatest shots, biggest disasters, and most amazing events that took place on each.

David Sowell returns to Augusta now with the third edition of The Masters, adding more history and updating each hole with additional stories of greatness and tales of woe for a new generation of golfers led by Jordan Spieth, Rory McIlroy, and Patrick Reed, as well as from an older guard represented by Bubba Watson, Adam Scott, and Sergio García.

The legends of the Masters are in full force in this lively look at America's golf classic. From Bobby Jones and Gene Sarazen to Arnold Palmer and Jack Nicklaus to Tiger Woods and Phil Mickelson to Bubba Watson and Jordan Spieth, all the greatest Masters moments of the greatest—and not so great—golfers are here in one book. This third edition provides a rich historical view of the course where success breeds legends and where failure can haunt even the most brilliant golfer's career. 
About the Author
---
David Sowell has written about golf and golf history for numerous golf publications, including the United States Golf Association's Golf Journal and Links Magazine.
 
 
 
Praise For…
---
"It is often said that the real Masters doesn't begin until the back nine on Sunday. Mr. Sowell's nuanced descriptions of those holes make it clear why the chase on Sunday afternoons is so often thrilling."—John Paul Newport, Wall Street Journal

"Sowell gives us the Masters in full flower."—Booklist

"An entertaining read that enthusiasts will enjoy."—Library Journal

"This third edition provides a rich historical view of the course where success breeds legends and where failure can haunt even the most brilliant golfer's career. . . . If you are a golf fan or enjoy watching this tournament that is the unofficial start of spring, The Masters is one of the best books on the sport and this tradition."—Jason Schott, Brooklyn Digest

"Using a unique format in which the history of events that happened at each hole is described, Sowell will inform readers about golfers in every era."—Lance Smith, Guy Who Reviews Sports Books

"Every kind of book on the Masters that could be written had been written, until David Sowell came along. He takes a route previously not taken, giving each of the eighteen holes of Augusta National its own fifteen minutes of fame."—Furman Bisher, the late legendary sports columnist for the Atlanta Journal-Constitution who covered the Masters for more than sixty years

"We have always wondered why the Masters is a tradition unlike any other. David Sowell has an answer. . . . He covers the magical moments of the good, the grand, and the also-ran on a course that itself is a memorial to Bobby Jones."—Sidney L. Matthew, author and producer of Life and Times of Bobby Jones