Augustus: First Emperor of Rome (MP3 CD)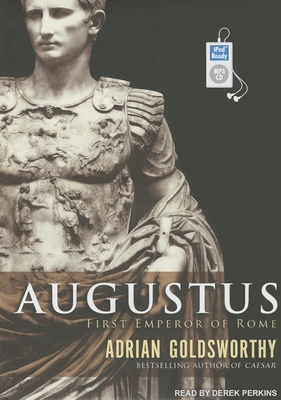 $39.99
Email or call for price.
Description
---
Caesar Augustus's story, one of the most riveting in western history, is filled with drama and contradiction, risky gambles and unexpected success. He began as a teenage warlord, whose only claim to power was as the heir of the murdered Julius Caesar. Mark Antony dubbed him a boy who owes everything to a name, but in the years to come the youth outmaneuvered all the older and more experienced politicians and was the last man standing in 30 BC. Over the next half century, he reinvented himself as a servant of the state who gave Rome peace and stability, and created a new system of government-the Principate, or rule of an emperor. Adrian Goldsworthy pins down the man behind the myths: a consummate manipulator, propagandist, and showman, both generous and ruthless. Under Augustus's rule, the empire prospered, yet his success was never assured, and the events of his life unfolded with exciting unpredictability.
About the Author
---
Historian Adrian Goldsworthy is the author of The Roman Army At War 100 BC-AD 200, Roman Warfare, and Cannae. He is a visiting fellow at the University of Newcastle and can be seen presenting TV documentaries and giving lectures. Adrian lives in South Wales.

A native of the United Kingdom, "AudioFile" Earphones Award winner Derek Perkins's audiobook narration skills are augmented by knowledge of three foreign languages and a facility with accents. He has narrated numerous titles in a wide range of fiction and nonfiction genres.