This Is Why We Can't Have Nice Things: (Parenting. Marriage. Madness) (Paperback)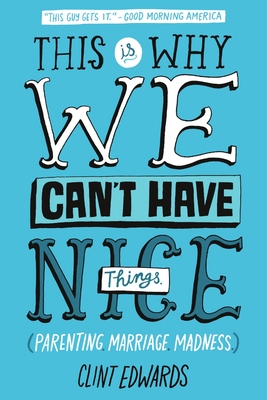 $14.99
Email or call for price.
Description
---
"Clint is one of my favorite dad voices today ... He's the perfect combination of LOL funny, completely relatable and down to earth. There's nobody else quite like him " - Jill Smokler, Scary Mommy "Clint Edwards brings real humor to the unsavory parts of childcare..." - Eli Epstein, Mashable "I always know, when I'm about to read a piece by Clint, that I'll end up nodding my head in agreement..." - Amy Joyce, The Washington Post "Clint Edwards writes about fatherhood in a way that is refreshingly self-deprecating and brilliantly honest. With views on parenting that are often off-beat and unconventional, Clint's work emanates a genuine warmth, enthusiasm and most of all, an unshakeable dedication to being the best father he can be." - Grace Koelma, Kidspot "Clint Edwards is dynamic. As a modern dad, his perspective is refreshing and his knack for stating the obvious and otherwise-not-mentioned is what allows him to connect with his readers." -Lara Bestbier, All4Baby.co.za.