I Am Number Four: The Lost Files: Hidden Enemy Lib/E (I Am Number Four Series: The Lost Files) (Compact Disc)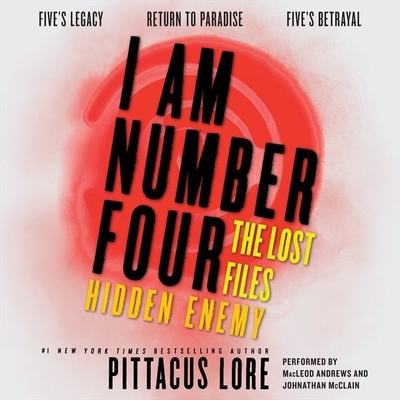 $59.99
Email or call for price.
Autumn 2010 Kids' Next List
---
"John Smith arrives in Paradise Ohio and hopes that this will finally be the place where he settle down and be a normal teenager. This isn't so easy considering he's an alien developing supernatural powers on the run from the Mogadorians who have destroyed his home planet and are hunting him down along with the eight other surviving Loriens. A novel that hits the ground running and doesn't let up until the very end, this first book in the Lorien Legacies will cause readers to stop and think: do they really live among us?"
— Grace Firari, The Velveteen Rabbit Bookshop, Fort Atkinson, WI
Description
---
The perfect companion to the New York Times bestselling I Am Number Four series
I Am Number Four: The Lost Files: Hidden Enemy is the third collection of action-packed novellas from Pittacus Lore. Initially published separately as digital originals, these three stories are now together in one volume.
Lost Files: #7: Five's Legacy tells the story of Five's early years on Earth when he was just a young teen on the run, discovering his abilities and making the wrong kind of friends.
Lost Files: #8: Return to Paradise picks up in the aftermath of the Mog attack on Ohio and follows Mark James as he struggles between returning to a normal life and helping John Smith and the others.
Lost Files: #9: Five's Betrayal is the exhilarating continuation of Five's story, in which he joins the Mogadorian ranks and must demonstrate his allegiance to them by helping to destroy the other Lorien survivors.
You know the truth about the Mogadorians' invasion of Earth and the Garde who will do anything to defeat them--yet there is still so much to learn. The stories in Hidden Enemy will help you get the answers you seek, but they will not help you stop the coming war. Only the Garde can save our planet.
The I Am Number Four series is perfect for fans of science fiction adventures like the Fifth Wave series by Rick Yancey and the Beautiful Minds series by Alexandra Bracken.