The Book of Charlie: Wisdom from the Remarkable American Life of a 109-Year-Old Man (Hardcover)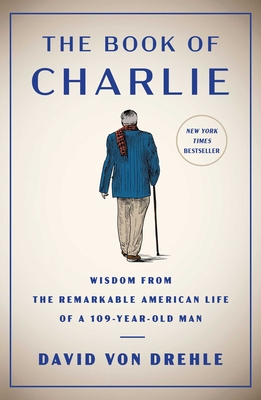 $26.00

Usually Ships in 1-5 Days
June 2023 Indie Next List
---
"Charlie White's life of 109 years reads like fiction! A story, not without tragedy, of the wild, heroic, and sometimes dangerous adventures of Charlie White. He lived his own advice: Work hard. Spread joy. Take a chance. Enjoy wonder."
— Jeri Kay Thomas, 2 Dandelions Bookshop, Brighton, MI
Description
---
One of our nation's most prominent writers discovers the truth about how to live a long and happy life from the centenarian next door in this "original and highly readable account of a splendid American life" (The Wall Street Journal).

When a veteran Washington journalist moved to Kansas, he met a new neighbor who was more than a century old. Little did he know that he was beginning a long friendship—and a profound lesson in the meaning of life. Charlie White was no ordinary neighbor. Born before radio, Charlie lived long enough to use a smartphone. When a shocking tragedy interrupted his idyllic boyhood, Charlie mastered survival strategies that reflect thousands of years of human wisdom. Thus armored, Charlie's sense of adventure carried him on an epic journey of the Jazz Age, racing aboard ambulances through Depression-era gangster wars, improvising techniques for early open-heart surgery, and cruising the Amazon as a guest of Peru's president.

David Von Drehle came to understand that Charlie's resilience and willingness to grow made this remarkable neighbor a master in the art of thriving through times of dramatic change. As a gift to his children, he set out to tell Charlie's secrets. The Book of Charlie is a "genuinely original, formula-shattering" (Bob Woodward) gospel of grit—the inspiring story of one man's journey through a century of upheaval. The history that unfolds through Charlie's story reminds you that the United States has always been a divided nation, a questing nation—a nation of Charlies in the rollercoaster pursuit of a good and meaningful life.
About the Author
---
David Von Drehle is an editor and columnist for The Washington Post, where he writes about national affairs and politics from a home base in the Midwest. He joined The Washington Post in 2017 after a decade at Time, where he wrote more than sixty cover stories as editor-at-large. He is the author of a number of books, including the award-winning bestseller Triangle: The Fire That Changed America and The Book of Charlie. He lives in Kansas City with his wife, journalist Karen Ball. They have four children.
Praise For…
---
"I gotta recommend this book, filled with history, wisdom, common sense, and laughs galore. I wish I had lived across the street from Charlie AND that I make it to 109!" — Tom Hanks, on Instagram

"An original and highly readable account of a splendid American life."
— The Wall Street Journal

"As is true of Charlie himself, this book is not just about goodness but grit, not just kindness but courage. It is also a shining example of the magic that can happen when a master storyteller with a deeply inquiring mind finds a subject that has hidden within it a million tantalizing opportunities to learn, to question, and to grow. To say that The Book of Charlie is inspiring is a vast understatement. I am a better person for having read it." — Candice Millard, author of River of the Gods

"No one writes as well about as many things as David Von Drehle, and his excellence is fully displayed in this slender examination of a well-lived life. In an era that elicits, by rewarding, incessant disparagement, he shows the beauty of elegant praise. You will never forget Charlie White, who was 102 when he came to Von Drehle's attention." — George F. Will, syndicated columnist

"In every era, an author writes a genuinely original, formula-shattering book. David Von Drehle has done this in The Book of Charlie, a serious history of the last 100 years. Charlie is told through the personal story of one man, an accidental neighbor in Kansas, finding joy and what matters. I don't think it spoils the ending to divulge some of Charlie's lessons learned: 'Practice patience. Smile often. Savor special moments. Be soft sometimes.'" — Bob Woodward

"There is something rather magical that David Von Drehle—one of our nation's most gifted chroniclers of history— met up with Charlie White, who lived longer than anyone you'll ever know. This Kansas City-set story is about goodness and the American spirit. It is also about time, and the graciousness in which a life can be lived on this green earth." — Wil Haygood, Colorization: 100 Years of Black Films in a White World

"David Von Drehle's book is a monumental achievement cloaked in the experience of one ordinary American man of his time. In this stunningly true story, 100 years worth of American eras become breathakingly intimate experiences, history becomes personal, and a neighbor becomes a figure of deep nobility. You will never look at the folks next door the same way again." — Sally Jenkins, author of The Real All-Americans

"A marvelous parable of resilience and durability, full of surprises and grace notes. David Von Drehle is among our most astute observers of the human condition, and in Dr. Charlie White—physician, centenarian, bon vivant— he has found a large character worthy of his talent." — Rick Atkinson, author of The British Are Coming

"The Book of Charlie isn't just a loving look at an astonishing 110-year life, it's a look at ourselves." — Rick Reilly, author of Commander In Cheat

"Excellent…Von Drehle gave his kids, kids in general, and people in general a how-to on life, and an important look back to the way life used to be. Hopefully it will alert them to how good they have it now. And is life ever good now. Read The Book of Charlie to see why."— Forbes

"A splendidly woven, inspirational memoir that explores the meaning of life and the resilience of the human spirit… This deeply engaging personal portrait of a remarkable centenarian also offers an absorbing account of the inventiveness of U.S. citizens— and the U.S., as it continually strives to evolve and improve." — Shelf Awareness

"Von Drehle's detailed rendering of White's life—especially his front-seat view of (and sometimes participation in) groundbreaking medical developments—is fascinating, and the men's friendship affecting. This has a lot to offer." — Publishers Weekly