The Fall of Lisa Bellow: A Novel (Hardcover)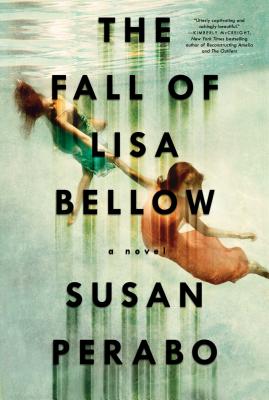 Description
---
The breakout novel from the critically acclaimed author of the short story collections Who I Was Supposed to Be and Why They Run the Way They Do—when a middle school girl is abducted in broad daylight, a fellow student and witness to the crime copes with the tragedy in an unforgettable way.

What happens to the girl left behind?

A masked man with a gun enters a sandwich shop in broad daylight, and Meredith Oliver suddenly finds herself ordered to the filthy floor, where she cowers face to face with her nemesis, Lisa Bellow, the most popular girl in her eighth grade class. The minutes tick inexorably by, and Meredith lurches between comforting the sobbing Lisa and imagining her own impending death. Then the man orders Lisa Bellow to stand and come with him, leaving Meredith the girl left behind.

After Lisa's abduction, Meredith spends most days in her room. As the community stages vigils and searches, Claire, Meredith's mother, is torn between relief that her daughter is alive, and helplessness over her inability to protect or even comfort her child. Her daughter is here, but not.

Like Everything I Never Told You and Room, The Fall of Lisa Bellow is edgy and original, a hair-raising exploration of the ripple effects of an unthinkable crime. It is a dark, beautifully rendered, and gripping novel about coping, about coming-of-age, and about forgiveness. It is also a beautiful illustration of how one family, broken by tragedy, finds healing.
About the Author
---
Susan Perabo is the author of the collections of short stories, Who I Was Supposed to Be and Why They Run the Way They Do, and the novels The Broken Places and The Fall of Lisa Bellow. Her fiction has been anthologized in Best American Short Stories, Pushcart Prize Stories, and New Stories from the South, and has appeared in numerous magazines, including One Story, Glimmer Train, The Iowa Review, The Missouri Review, and The Sun. She is Writer in Residence and professor of English at Dickinson College in Carlisle, Pennsylvania, and on the faculty of the low-residency MFA Program at Queens University. She holds an MFA from the University of Arkansas, Fayetteville.
Praise For…
---
ADVANCE PRAISE FOR THE FALL OF LISA BELLOW

"A daring narrative strategy...You will hate to leave the inside of this woman's head when you finish the book. The texture of family life as it unravels, then begins to regenerate, is conveyed with unflinching clarity and redemptive good humor."
—Kirkus Reviews (starred review)

"[A] sharp and suspenseful novel...The novel's tension arises as much from Perabo's insight into a complex and changing family dynamic as from the horror of an unusual but believable situation. Perabo's female characters are particularly strong....Survivor's guilt takes on a unique form here, as the novel plays with the reader's understanding of what is actually going on in Meredith's world."
—Publishers Weekly

"Gripping…Perabo captures both the unease and bravado of adolescence alongside the worries of parenthood and is unafraid to explore the family members' flaws as they attempt to emerge from chaos."
—Booklist

"Dark and suspenseful."
—Glamour.com (Best Books To Read in 2017 selection)

"Told through the incredibly honest eyes of an eighth grade girl and her despairing mother, this moving story touches on tragedy, loss, and what happens to those affected."
—RealSimple.com (Best Books of March selection)

"The second novel from writer Susan Perabo is wrenching, a dark yet beautifully told story of family, fear and grief."
—Bookpage

"Absolutely masterful...this should be the book to launch Susan Perabo into the realm of Known Writers, those folks whose each new work marks the landscape in overt ways. All her powerful skills are on display here—the vivid, telling details, the strangely askance story actually being told, the murky irresolution that's somehow gratifying despite not delivering on what most readers will likely expect...this is a dynamite, stunning book that'll hang in you long after you finish it."
—The Brooklyn Rail

"Utterly captivating and achingly beautiful, The Fall of Lisa Bellow brilliantly explores the aftermath of a shocking abduction in an idyllic town, moving seamlessly between the rocky terrain of teenage grief and maternal guilt to show the ultimate redemptive power of love. It's a fantastic, thought-provoking novel."
—Kimberly McCreight, New York Times Bestselling author of Reconstructing Amelia and The Outliers

"A searingly smart and painful exploration of aftermath—the voids left in tragedy's wake, the truths that can never be spoken. To be the one left behind: Perabo never shies away from how much this can hurt. But in her hands, what seems at first like a story of loss ultimately becomes a narrative of renewal--and an unforgettable portrait of mothers, daughters, and the tangle of desperation, fear, history, confusion, and love that binds them together."
—Robin Wasserman, author of Girls on Fire

"Were you ever an adolescent girl? I was. And I wouldn't go back there for a million dollars. Except I just did, with Susan Perabo as my tour guide. In The Fall of Lisa Bellow, she earns her place as a bridge builder between generations, equally believable and relatable from the perspectives of a struggling teenager and her well-intentioned but flummoxed mom. I can't wait to share this beautiful, funny and tragic page turner with my fifteen year-old. I just know it will spark the scintillating, honest conversation I've been waiting for!"
—Elisabeth Egan, author of A Window Opens

"Breathless...this exhilarating novel shatters your heart then pieces it back together chapter by chapter until the last devastating sentence. In masterful and hypnotic prose, Perabo tells an unforgettable story of resilience as a family struggles to reconnect after their perfect world is torn apart by violence and loss. Psychologically insightful and emotionally engrossing, this is a story that will transform you from the inside out."
—Kim van Alkemade, New York Times bestselling author of Orphan #8