The Guy Under the Sheets: Chris Elliott Tells the Truth and Names the Names (Compact Disc)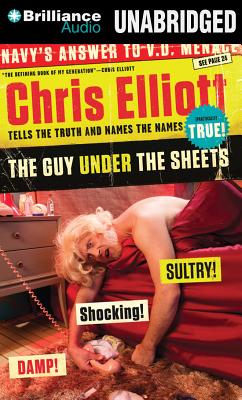 $14.99
Email or call for price.
Description
---
Because no one will write an unauthorized biography about Emmy-winning actor and comedian Chris Elliott, he has done it himself. Listener, you're hereby warned that much of this book will be disturbing. The Guy Under the Sheets is a behind-the-scenes memoir so personal, so provocative, that Elliott nearly sued himself to halt publication: the most shocking revelation, corroborated by numerous unnamed sources, is that Elliott is not the absurdist comedian that Rolling Stone once called "a genius." In fact, he's a slightly dim-witted no-talent from a celebrity family who managed to convince a whole generation of disillusioned youth that he was funny.
Few have seen his dark side: a ghastly childhood spent on Manhattan's posh Upper East Side; a torrid first love affair with Lee Radziwill; a torrid second one with Kathie Lee Gifford; his first job dismembering bodies for the Mob; and countless episodes from the life of a mediocre artist who somehow faked his way to the top -- of semi-moderate fame and fortune.
But seriously, Elliott is a brilliantly comic bestselling writer -- and while there is plenty of fictional fun in The Guy Under the Sheets, also woven throughout are wonderful real-life anecdotes, including Elliott's start at Late Night with David Letterman alongside Andy Kaufman, his work in films from Groundhog Day to Cabin Boy, and much more. If the author does not prevail in his lawsuit, this book is bound to delight many new listeners and loyal fans alike.