My Encyclopedia of Very Important Sports: For little athletes and fans who want to know everything (My Very Important Encyclopedias) (Hardcover)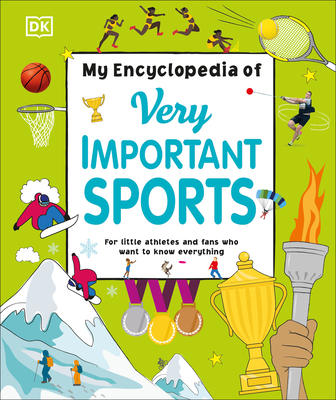 $18.99

Usually Ships in 1-5 Days
Description
---
A charming children's encyclopedia bursting with fun facts about the world of sport, for little learners who want to know everything!

The world is so much bigger than young minds can fathom and there is always more to learn. 
My Encyclopedia of Very Important Sport is a vibrant encyclopedia for curious 5-9 year olds, with a unique approach to the subject of sport that combines facts and figures with the inspiring stories of sporting legends and icons.

This exciting book for children is packed with fun facts about a range of popular sportssuch as football, karate, badminton, and skiing, as well as ones you might never have heard of like biathlon or cheese rolling. Whether you're a fan of team sports, winter sports, water sports, extreme sports, and even board games such as chess and go, this reference book has it all! 

My Encyclopedia of Very Important Sport also celebrates the unique talents, lives, and careers of sporting heroes such as Usain Bolt, Serena Williams, Yuna Kim, Lin Dan, and Donald Bradman, and chronicles the most celebrated stories in sporting history, such as breaking the Four-minute mile, Nadia Comaneci's Perfect 10, and Jesse Owens at the 1936 Olympics. Featuring everything from obscure rules and strange equipment, to moments of triumph and sporting events like The World Cup, Superbowl, Olympics, Paralympics, and more – this is the perfect book for budding superstars everywhere.

Celebrate your child's curiosity as they:

- Read all about individual sports, team sports, motor sports, and winter sports
- Learn the stories of sporting legends such as Usain Bolt, Serena Williams and more
- Discover key moments in sporting history

Our encyclopedia for children is the perfect blend of striking illustrations and educational text, written in a friendly, witty and fun manner, featuring a combination of fact-files, detailed paragraphs, labels, and speech bubbles. Topics are simple to navigate – perfect for knowledgeable sports fans who want to read about their favorites as well as readers who are unfamiliar with sport and are looking to learn.

Encourage early learners to go on a journey to explore a world of information, making this the ideal first reference book for kids aged 5-9 to enjoy for hours on end, whether for shared reading with the family or reading alone, this fun fact book for children also doubles up as the perfect gift for curious kids who love to learn. 

Tell the story of the world one page at a time, by uncovering:

- Educational content written in a friendly and fun manner 
- Beautifully padded cover with several high-quality finishes, including padding and foil
- Features a built-in ribbon bookmark so you never lose your place whilst reading 

More in the Series

My Encyclopedia of Very Important Sport is part of the educational kid's book series My Very Encyclopedia series. Complete the series and nurture your child's curiosity with My Encyclopedia of Very Important Adventures, teach them about different species with My Encyclopedia of Very Important Animals, or let them walk with the dinosaurs who ruled the earth before them in My Encyclopedia of Very Important Dinosaurs.
About the Author
---
We believe in the power of discovery. That's why we create books for everyone that explore ideas and nurture curiosity about the world we live in.
 
From first words to the Big Bang, from the wonders of nature to city adventures, you will find expert knowledge, hours of fun and endless inspiration in the pages of our books. 

https://www.dk.com/