Loving vs. Virginia: A Documentary Novel of the Landmark Civil Rights Case (Books about Love for Kids, Civil Rights History Book) (Hardcover)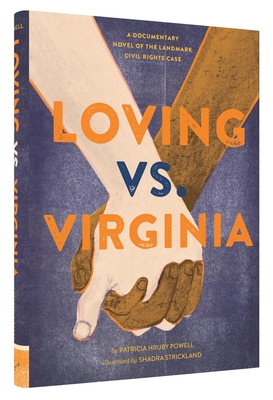 $21.99

Usually Ships in 1-5 Days
Description
---
From acclaimed author Patricia Hruby Powell comes the story of a landmark civil rights case, told in spare and gorgeous verse. In 1955, in Caroline County, Virginia, amidst segregation and prejudice, injustice and cruelty, two teenagers fell in love. Their life together broke the law, but their determination would change it. Richard and Mildred Loving were at the heart of a Supreme Court case that legalized marriage between races, and a story of the devoted couple who faced discrimination, fought it, and won.
About the Author
---
Patricia Hruby Powell's previous book, Josephine: The Dazzling Life of Josephine Baker, won a Sibert Honor for Nonfiction, a Coretta Scott King Honor, and five starred reviews. She lives in Illinois.

Shadra Strickland is an illustrator whose work has won an Ezra Jack Keats Award, a Coretta Scott King/John Steptoe Award for New Talent, and an NAACP Image Award. She lives in Maryland.
Praise For…
---
"Presented through the alternating voices of Mildred and Richard Loving, the reader enters the lives of two people in a tight-knit community who fall in love and are forced to leave the world they have known. We grow up with them and understand their quiet strength. Patricia Hruby Powell sets the Loving's story within the historical context of the Civil Rights Movement thereby allowing readers to gain a greater understanding of the fight for equal rights, at both the personal and societal level." -Jennifer Kelley Reed, Teacher Librarian and blogger at Reederama

"Presented through the alternating voices of Mildred and Richard Loving, the reader enters the lives of two people in a tight-knit community who fall in love and are forced to leave the world they have known. We grow up with them and understand their quiet strength. Patricia Hruby Powell sets the Loving's story within the historical context of the Civil Rights Movement thereby allowing readers to gain a greater understanding of the fight for equal rights, at both the personal and societal level." -Jennifer Kelley Reed, Teacher Librarian and blogger at Reederama

"Compelling and heartrending, this true story personalizes the civil rights movement."-Common Sense Media

"Compelling and heartrending, this true story personalizes the civil rights movement."-Common Sense Media

"Fine, dramatic storytelling in a memorable verse format."-Booklist, starred review

"Fine, dramatic storytelling in a memorable verse format."-Booklist, starred review

"An impressive level of detail, and vivid depiction of the social environment."-The Horn Book Magazine

"An impressive level of detail, and vivid depiction of the social environment."-The Horn Book Magazine

"Offers insights into the couple who never imagined they would make civil-rights history."-Austin American Statesman

"Offers insights into the couple who never imagined they would make civil-rights history."-Austin American Statesman

"Skillful storytelling mixed with the occasional illustration and documents transports readers into Mildred and Richard Love's lives in this must-read, exceptional book based on their true story."-Imagination Soup

"Skillful storytelling mixed with the occasional illustration and documents transports readers into Mildred and Richard Love's lives in this must-read, exceptional book based on their true story."-Imagination Soup

"Convincing portraits of Mildred and Richard Loving's courtship, marriage, troubles, trials and triumph."-The Charlotte Observer

"Convincing portraits of Mildred and Richard Loving's courtship, marriage, troubles, trials and triumph."-The Charlotte Observer

http://www.childrensliteratureassembly.org/notables.html

http://www.childrensliteratureassembly.org/notables.html

"Tells a quiet yet powerful story."-The Chicago Tribune

"Tells a quiet yet powerful story."-The Chicago Tribune

"Spellbinding free verse, illustrations, photos and more, it's a must for teens and adults alike."--Britt + Co.

"Spellbinding free verse, illustrations, photos and more, it's a must for teens and adults alike."--Britt + Co.

"Readers who enjoy history, art, love stories, and the fight for equal rights will enjoy this biographical fiction. The timing of the book is perfect."-VOYA: Voice of Youth Advocates

"Readers who enjoy history, art, love stories, and the fight for equal rights will enjoy this biographical fiction. The timing of the book is perfect."-VOYA: Voice of Youth Advocates

"A challenging, poignant read about an important civil rights case."-ForeWord Reviews

"A challenging, poignant read about an important civil rights case."-ForeWord Reviews

"A story that is personal, not just political." -The San Francisco Chronicle

"A story that is personal, not just political." -The San Francisco Chronicle

"Powerful and riveting."-Kirkus Reviews,starred review

"Powerful and riveting."-Kirkus Reviews,starred review

"Excellent starter book for those interested in learning the basics of the civil rights movement."-Publishers Weekly

"Excellent starter book for those interested in learning the basics of the civil rights movement."-Publishers Weekly

"Immediately relevant today. a rich opportunity for students and adults to discuss urgent and perennial questions."-School Library Journal

"Immediately relevant today. a rich opportunity for students and adults to discuss urgent and perennial questions."-School Library Journal

Best Teen Books of the Year - Kings County Public Library

Best Teen Books of the Year - Kings County Public Library

https://www.literacyworldwide.org/docs/default-source/reading-lists/young-adults-choices/young-adults-choices-reading-list-2018.pdf

https://www.literacyworldwide.org/docs/default-source/reading-lists/young-adults-choices/young-adults-choices-reading-list-2018.pdf

Read On Wisconsin! State Reading List 2018-2019

Read On Wisconsin! State Reading List 2018-2019

"This handsome oversized volume... tells a quiet yet powerful story."-Baltimore Sun

"This handsome oversized volume... tells a quiet yet powerful story."-Baltimore Sun

"A compelling, heartbreaking but ultimately triumphant tale."-The Cleveland Plain Dealer

"A compelling, heartbreaking but ultimately triumphant tale."-The Cleveland Plain Dealer

"Captures the subtlety of a historic moment through the eyes of characters whom teens can relate to."-The Pittsburgh Post-Gazette

"Captures the subtlety of a historic moment through the eyes of characters whom teens can relate to."-The Pittsburgh Post-Gazette

"This stunning book is a must-purchase for the simple pleasure of its poetry, its genuine and moving story, and its respectful consideration of this monumental case on its 50th anniversary."--School Library Connection

"This stunning book is a must-purchase for the simple pleasure of its poetry, its genuine and moving story, and its respectful consideration of this monumental case on its 50th anniversary."--School Library Connection