A Man and His Ship: America's Greatest Naval Architect and His Quest to Build the S.S. United States (Paperback)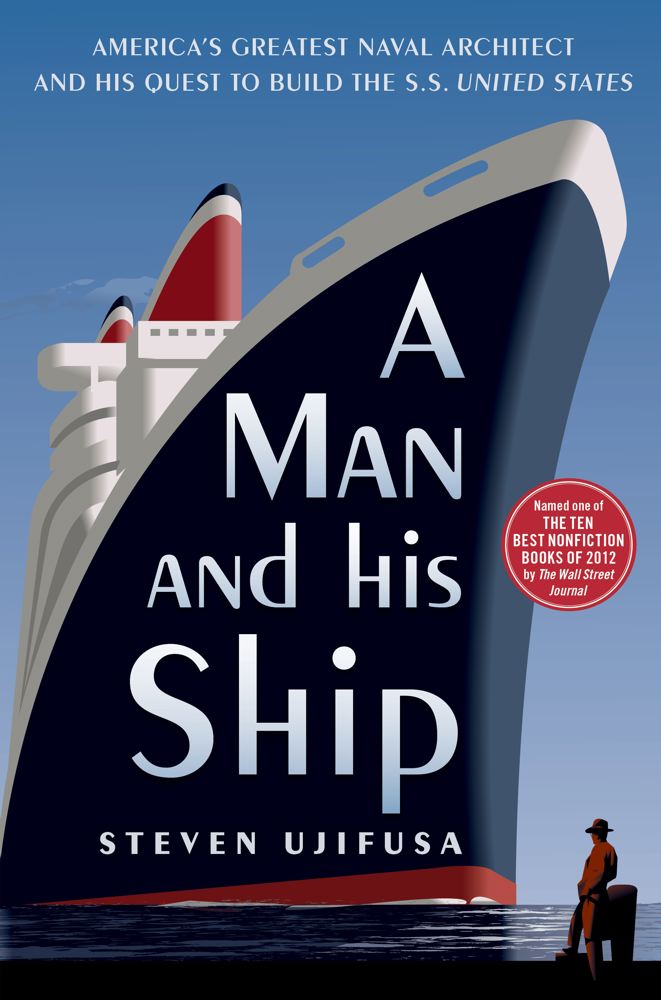 $18.00

Usually Ships in 1-5 Days
Description
---
"A fascinating historical account…A snapshot of the American Dream culminating with this country's mid-century greatness" (The Wall Street Journal) as a man endeavors to build the finest, fastest, most beautiful ocean liner in history.

The story of a great American Builder at the peak of his power, in the 1940s and 1950s, William Francis Gibbs was considered America's best naval architect. His quest to build the finest, fastest, most beautiful ocean liner of his time, the SS United States, was a topic of national fascination. When completed in 1952, the ship was hailed as a technological masterpiece at a time when "made in America" meant the best.

Gibbs was an American original, on par with John Roebling of the Brooklyn Bridge and Frank Lloyd Wright of Fallingwater. Forced to drop out of Harvard following his family's sudden financial ruin, he overcame debilitating shyness and lack of formal training to become the visionary creator of some of the finest ships in history. He spent forty years dreaming of the ship that became the SS United States. William Francis Gibbs was driven, relentless, and committed to excellence. He loved his ship, the idea of it, and the realization of it, and he devoted himself to making it the epitome of luxury travel during the triumphant post-World War II era.

Biographer Steven Ujifusa brilliantly describes the way Gibbs worked and how his vision transformed an industry. A Man and His Ship is a tale of ingenuity and enterprise, a truly remarkable journey on land and sea.
About the Author
---
Steven Ujifusa received his AB in history from Harvard University and a master's degree in historic preservation from the University of Pennsylvania. His first book, A Man and His Ship, tells the story of William Francis Gibbs, the naval architect who created the ocean liner SS United States; The Wall Street Journal named it one of the best nonfiction titles of 2012. His new book, Barons of the Sea, brings to life the dynasties that built and owned the magnificent clipper ships of America's nineteenth-century-era of maritime glory. Steven has given presentations across the country and on the high seas, and has appeared as guest on CBS Sunday Morning and NPR. A recipient of a MacDowell Colony fellowship and the Athenaeum of Philadelphia's Literary Award, he lives with his wife, a pediatric emergency room physician, in Philadelphia. Read more about him at StevenUjifusa.com.
Praise For…
---
A terrific book! By turns entertaining, informing and ultimately inspiring, A Man and His Ship transforms its readers into passengers traveling across an ocean and through time. A skilled verbal navigator, Steven Ujifusa has charted an efficient and yet immensely satisfying course through a sea of facts, images and stories.
— David Macauley, author of The Way Things Work and Unbuilding

"A delightful account of the era of grand ocean liners and the brilliant, single-minded designer who yearned to build the greatest ocean liner of all."—Kirkus

"In his debut, Ujifusa harks back to a time when men were men, and transatlantic ships were serious business...Written with passion and thoroughness, this is a love letter to a bygone time and the ships that once ruled the seas."—Publishers Weekly starred review

"Ujifusa describes the construction of the ship in engrossing detail and provides informative digressions on the golden age of ocean travel, when liners carried millionaires, celebrities, and desperate refugees."—Booklist

"Few of man's creations possess even half the romance of the passenger ships that once steamed across the world's oceans, especially the North Atlantic. That is why Steven Ujifusa's 'A Man and His Ship' is such a compelling work."
— The Wall Street Journal

Steven Ujifusa has done something remarkable in his book, A Man and His Ship: he has brought back an era of American dominance in shipbuilding through the life of one of its giants: William Francis Gibbs. In some ways, Gibbs was the Steve Jobs of his era – a perfectionist with few people skills who nevertheless was single-handedly able to change his industry by the power of his vision and overwhelming professional competence. We need more public historians like Ujifusa working in business history. Using the highest research standards, he has written a great book that tells great story.
— G. Richard Shell, Thomas Gerrity Professor, The Wharton School of Business and author, Bargaining for Advantage: