Jack Kennedy: Elusive Hero (Hardcover)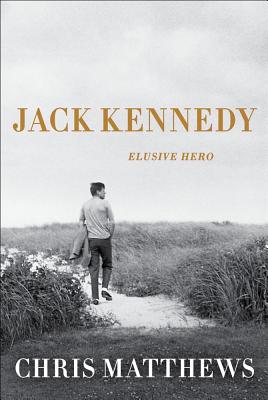 $27.50
Email or call for price.
Description
---
"What was he like?"

Jack Kennedy said the reason people read biography is to answer that basic question. What was he like, this man whose own wife called him "that elusive, unforgettable man?" In this New York Times bestselling biography, Chris Matthews answers that question with the verve of a novelist. We see this most beloved president in the company of friends. We see and feel him close-up, having fun and giving off that restlessness of his. We watch him navigate his life from privileged, rebellious youth to gutsy American president. We witness his bravery in war and selfless rescue of his PT boat crew. We watch JFK as a young politician learning to play hardball and watch him grow into the leader who averts a nuclear war. Matthews's extraordinary biography is based on personal interviews with those closest to JFK, oral histories by top political aide Kenneth O'Donnell and others, documents from his years as a student at Choate, and notes from Jacqueline Kennedy's first interview after Dallas. As Matthews writes: "I found a fighting prince never free of pain, never far from trouble, never accepting the world he found, never wanting to be his father's son. He was a far greater hero than he ever wished us to know."
About the Author
---
Chris Matthews is the host of MSNBC's Hardball. He is the author of Jack Kennedy—Elusive Hero; Tip and the Gipper—When Politics Worked; Kennedy and Nixon; Hardball; and now Bobby Kennedy: A Raging Spirit.
Praise For…
---
"Chris Matthews has written an insightful, engrossing, and candid account about what made John F. Kennedy tick. Every chapter brims with colorful anecdotes, political yarns, fast-paced drama, and solid research. Jack Kennedy is a riveting read by one of American's master political analysts. I give it ten gold-stars!"
— Douglas Brinkley

"Filled with the vitality and spirit that made Jack Kennedy such a magical figure. Chris Matthews shows the cunning and determination beneath that magic. Written with passion and insight. This book makes Kennedy vibrant again. It's an awesome and delightful book."
— Walter Isaacson

"Chris Matthews takes on a giant of American life—and triumphs."
— Brian Williams

"It's hard for a book to be loving, affectionate and honest, but Chris Matthews has done it. He captures JFK's virtues and flaws, his appreciation of heroism, his essential independence, his coolness at the core. Full of drama, infused with the joy of politics and battle, Jack Kennedy is an insightful piece of work and a great time! "
— Peggy Noonan

"In his engaging new biography…Matthews, who has a deep knowledge of American political history, draws on coversations with numerous people...[offering] a valuable reminder of Kennedy's skill at uniting toughness with inspirational leadership."
— The New York Times

"Matthews stirring biography reveals Kennedy as a 'fighting prince never free from pain, never far from trouble, and never accepting the world he found."
— Publishers Weekly

"Matthews...blends tributes and chastisement in this highly personal account of John. F. Kennedy's career."
— Kirkus