Star Trek: The Original Series: Vulcan's Glory (Paperback)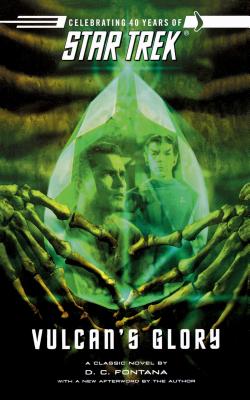 $16.99

Usually Ships in 1-5 Days
Description
---
This New York Times bestselling novel by one of the writer/producers on the original classic Star Trek explores a young Spock grappling with the opposing desires that clash during a dangerous, deadly mission.

Years before he came to be known as the best first officer in the fleet, Spock was a conflicted young ensign, serving on the Starship Enterprise™ under Captain Christopher Pike. Struggling to reconcile his many obligations—those forced on him by his Vulcan heritage, and those chosen by him upon his enrollment in Starfleet Academy—Spock must also balance the desires of his own heart.

Those conflicting demands intersect during a mission to retrieve one of his world's most sacred artifacts, a relic of Vulcan's ancient past—the search for which will reveal dark and deadly secrets, forever altering the course of Spock's life and defining the man he became.

A classic tale from D.C. Fontana, one of Star Trek®'s original producers and the writer of such classic episodes as "Journey to Babel" and "This Side of Paradise."
About the Author
---
D.C. Fontana (1939–2019) was a television script writer and editor, best known for her work on the original Star Trek franchise. She is the author of Vulcan's Glory and coauthor of Star Trek: Year Four with Derek Chester.