Bonhoeffer: Pastor, Martyr, Prophet, Spy (Compact Disc)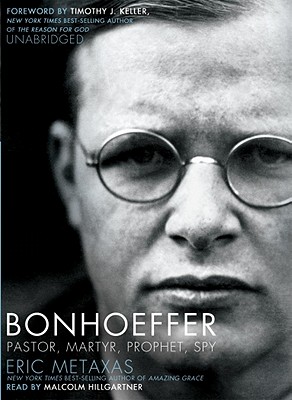 $123.00
Email or call for price.
Description
---
This New York Times bestseller is the groundbreaking biography of Dietrich Bonhoeffer, one of the greatest heroes of the twentieth century, the man who stood up to Hitler. A definitive, deeply moving narrative, Bonhoeffer is a story of moral courage in the face of the monstrous evil that was Nazism.
As Adolf Hitler and the Nazis seduced a nation, bullied a continent, and attempted to exterminate the Jews of Europe, a small number of dissidents and saboteurs worked to dismantle the Third Reich from the inside. One of these was Dietrich Bonhoeffer--a pastor and author. Eric Metaxas takes both strands of Bonhoeffer's life--the theologian and the spy--and draws them together, presenting the fullest account of Bonhoeffer's life written to date. He tells of Bonhoeffer's heart-wrenching decision to leave the safe haven of America to return to Hitler's Germany and sheds new light on Bonhoeffer's involvement in the famous Valkyrie plot, as well as "Operation 7," the effort to smuggle Jews into neutral Switzerland. Since his death in Flossenb rg concentration camp at age thirty-nine, Bonhoeffer has grown to be one of the most fascinating, complex figures of the twentieth century. This fascinating account uncovers never-before-revealed facts about the profoundly orthodox Christian theologian, including the story of his passionate romance.