WTF? America: How to Survive 101 of the Worst F*#!-ing Situations in the United States (Paperback)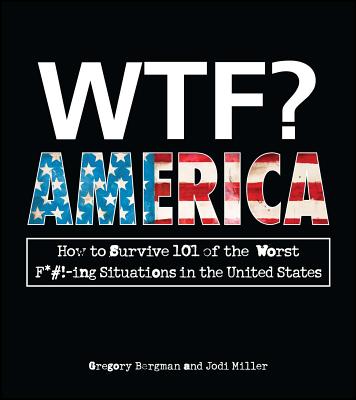 $12.99

Usually Ships in 1-5 Days
Description
---
You made 40 grand last year--and got to keep almost half after taxes . . .
A poorly timed joke at the airport has you on the Do Not Fly list . . .
It just cost you 60 bucks to fill up your 1998 Kia . . .

Welcome to WTF? America: The land of the free . . . and the home of the totally f*#!ed.

Whether you made the mistake of messing with (a drunk guy in a bar from) Texas or a Red Sox fan spit on your car just for having New York plates, the mighty U.S. of A. is sure to screw over everyone at some point or another. But hey, these colors don't run--and that's where Gregory Berman and Jodi Miller come in.

Join the authors of the bestselling WTF? series on a state-by-state road trip through our greatly infuriating nation. Whether you're trying to figure out how to stay in shape in America's fattest state (Mississippi) or just want to dodge your town's local "smog tax," this survival guide is certain to entertain.

From sea to polluted sea, it's exactly what you need when America has you screaming, "What the f*#!?"
About the Author
---
Gregory Bergman is the author of numerous humor books such as the WTF series, which includes WTF? America and WTF? College.