Children of Terror (Paperback)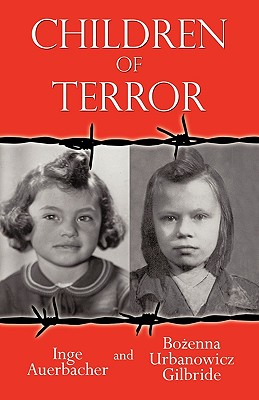 $12.95

Usually Ships in 1-5 Days
Description
---
This book is an "Honorable-Mention Awardee 2015" from Readers Favorite under Non-Fiction/Autobiography category.
Two very young girls, one a Catholic from Poland, the other a Jew from Germany, are caught in a web of terror during World War II. These are their unforgettable true stories.
"War does not spare the innocent. Two young girls, one a Catholic from Poland, the other a Jew from Germany, were witnesses to the horror of the Nazi occupation and Hitler's terror in Germany. As children they saw their homes and communities destroyed and loved ones killed. They survived deportation, labor camps, concentration camps, starvation, disease and isolation."
"This is a moving personal account of history. Urbanowicz and Auerbacher's painful pasts and similar experiences should guide us to make correct decisions for the future."
Aldona Wos, M.D.
Ambassador of the United States of America, Retired, to the
Republic of Estonia
Daughter of Paul Wos, Flossenburg
Concentration Camp, Prisoner
Number 23504
"Most Holocaust survivors are no longer with us, and that is why this volume is so important. It is a moving testimony by two courageous women, one Catholic and one Jewish, about their youthful ordeals at the hands of the Nazis. They succeed in ways even the most astute historian cannot -- they literally capture history and bring it to life. It is sure to touch all those who read it."
William A. Donohue
President, Catholic League for Religious and Civil Rights
"Such an original book, written jointly by both a Jewish survivor and a Polish-Christian survivor of the Holocaust, Children of Terror points the way toward fresh insight, hope and redemption. If "Never again" is to be more than a slogan, tomorrow's adults must be nourished and informed by books such as this. A fabulous piece of work, perfect for the young people who are our future."
Rabbi Dr. Hirsch Joseph Simckes, St. John's University, Department of Theology
"The authors were born in the same year but into different worlds: one a Polish Catholic and the other a German Jew. Despite their dramatically different traditions and circumstances, they shared a common trauma -- the confusion and fear of being a child in wartime. Auerbacher and Urbanowicz vividly describe the saving power of family, place, and tradition. Young readers of Children of Terror will come away with a deeper understanding of the Second World War and a profound admiration for the book's authors."
David G. Marwell, Ph.D., Director of the Museum of Jewish Heritage -- A Living Memorial to the Holocaust