My Custom Van: And 52 Other Mind-Blowing Essays that Will Blow Your Mind All Over Your Face (Paperback)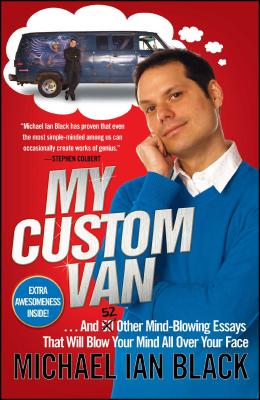 $16.99
Usually Ships in 1-5 Days
Description
---
Get ready for the read of your life. Never before has a single book combined awesome vans, unicorns, Billy Joel, and erotic fiction in such a potent combination. A writing tour de force? Perhaps. A reading experience that will sear itself into your consciousness like a red-hot branding iron? Without question.

Comedian and basic cable superstar Michael Ian Black unleashes the full fury of his astonishing intellect in this collection of short comic essays. My Custom Van is a no-holds-barred assault to the funny bone that will literally beat you into submission with hilarity*.

How did he do it? How did he create such a fine anthology? Answer: With love. Michael opened his heart and used the magical power of love to write more than fifty thought-provoking essays like, "Why I Used a Day-Glo Magic Marker to Color My Dick Yellow," and "An Open Letter to the Hair Stylist Who Somehow Convinced Me to Get a Perm When I Was in Sixth Grade."

Maybe you think love is not a substitute for "good writing skills" and "spell check." Bull pucky! When it comes to writing books, love is the most powerful word processor of all.

Sounds pretty great, right? And yet...something is still holding you back from paying the full purchase price of this book. What is it? Perhaps you secretly believe you do not deserve a book this good. Nonsense -- you deserve this book and so much more. In fact, if Michael could have written you all the stars in the sky, that's what he would have done. But he couldn't do that, due to his lack of knowledge in the area of astronomy. So he wrote this book instead.

And this flap copy.

Enjoy.

* Michael Ian Black is not responsible for any actual injuries caused by reading this book.
About the Author
---
Michael Ian Black is a writer, comedian, and actor who currently appears on Another Period, The Jim Gaffigan Show, and Wet Hot American Summer: First Day of Camp. He created and starred in many television series, including Michael and Michael Have Issues, Stella, and The State. He wrote the screenplay for the film Run, Fatboy, Run and wrote and directed the film Wedding Daze. Michael regularly tours the country as a stand-up comedian and is the bestselling author of the book My Custom Van (and 50 Other Mind-Blowing Essays That Will Blow Your Mind All Over Your Face), the memoir You're Not Doing It Right, and the children's books Chicken Cheeks, The Purple Kangaroo, A Pig Parade Is a Terrible Idea, I'm Bored, Naked!, and Cock-a-Doodle-Doo-Bop. Michael lives in Connecticut with his wife and two children.
Praise For…
---
"Michael Ian Black has proven that even the most simple-minded among us can occasionally create works of genius." -- Stephen Colbert

"Like all custom vans, Michael Ian Black's book is customized to fit all your needs and wants for the journey of your life. It's luxurious, entertaining, spooky, disturbing, and hilarious. Devil's in the details! It's stocked with tacos, vampires, squirrels, a cleaning lady, scented candles, salami, tundra, and a foreword by Abe Lincoln himself -- now that's Class with a capital C. Enjoy the ride of your lifetime." -- Amy Sedaris

"This is a great book for shut-ins, for people who like to laugh at sentences, and people who like to move their belongings from place to place. In fact, anyone who likes to pack or ship anything will find a lot to like in these pages." -- Dave Eggers

"Fun to read while you're pooping." -- Sarah Silverman

"I always walk away jealous and a little fearful of Michael Ian Black's sharp comedic wit. If you like your comedy dry, absurd, and unforced, you will love this book." -- Jim Gaffigan

"Michael Ian Black speaks to the laughless in all of us and asks, 'Why aren't you laughing?' Then he takes the laughless in all of us roughly by the shoulders and INSISTS THAT WE LAUGH, usually by writing exceedingly funny and compelling essays such as those included in this volume." -- John Hodgman

"Michael Ian Black is so wrong that he's right." -- Lewis Black