Revenge Wears Prada: The Devil Returns (Hardcover)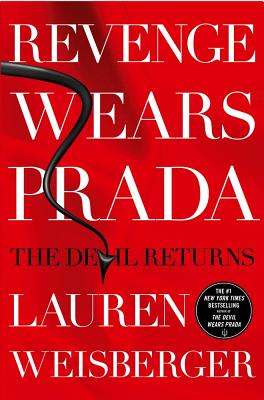 Description
---
The sequel you've been waiting for: the follow-up to the sensational #1 bestseller The Devil Wears Prada.

Almost a decade has passed since Andy Sachs quit the job "a million girls would die for" working for Miranda Priestly at Runway magazine—a dream that turned out to be a nightmare. Andy and Emily, her former nemesis and co-assistant, have since joined forces to start a high-end bridal magazine. The Plunge has quickly become required reading for the young and stylish. Now they get to call all the shots: Andy writes and travels to her heart's content; Emily plans parties and secures advertising like a seasoned pro. Even better, Andy has met the love of her life. Max Harrison, scion of a storied media family, is confident, successful, and drop-dead gorgeous. Their wedding will be splashed across all the society pages as their friends and family gather to toast the glowing couple. Andy Sachs is on top of the world. But karma's a bitch. The morning of her wedding, Andy can't shake the past. And when she discovers a secret letter with crushing implications, her wedding-day jitters turn to cold dread. Andy realizes that nothing—not her husband, nor her beloved career—is as it seems. She never suspected that her efforts to build a bright new life would lead her back to the darkness she barely escaped ten years ago—and directly into the path of the devil herself...
About the Author
---
Lauren Weisberger is the New York Times bestselling author of When Life Gives You Lululemons, The Singles Game, and The Devil Wears Prada, which was published in forty languages and made into a major motion picture starring Meryl Streep and Anne Hathaway. It was announced in 2017 that musician Elton John and Paul Rudnick will adapt The Devil Wears Prada for the stage. Weisberger's four other novels, Everyone Worth Knowing, Chasing Harry Winston, Last Night at Chateau Marmont, and Revenge Wears Prada, were all top-ten New York Times bestsellers. Her books have sold more than thirteen million copies worldwide. A graduate of Cornell University, she lives in Connecticut with her husband and two children. Visit LaurenWeisberger.com to learn more.
Praise For…
---
"A juicy drama."

"Seems like a must-have beach read for us!"

"The devil is back and better than ever."

"The book successfully sprinkles pop culture tidbits to keep up the breezy tone…for this summer, it's a pleasant, entertaining read in a tabloid magazine sort of way."

"Miranda Priestly returns, more delightfully terrifying than ever, in this delicious sequel to The Devil Wears Prada."

"The reader is pulled into the glitz and glamour reminiscent of the New York Times bestseller THE DEVIL WEARS PRADA and the movie on which it was based."

"Another fun romp, just in time to break out the pool-side lounge chairs."

"Andy's character is what drives the book, after all- this sequel is a fun summer read."

"An excellent page turner for summer vacation."

"Oh, my, there's a lot going on in "Revenge Wears Prada." And you're going to love every single page of it."