The Downtown Pop Underground: New York City and the literary punks, renegade artists, DIY filmmakers, mad playwrights, and rock 'n' roll glitter queens who revolutionized culture (Hardcover)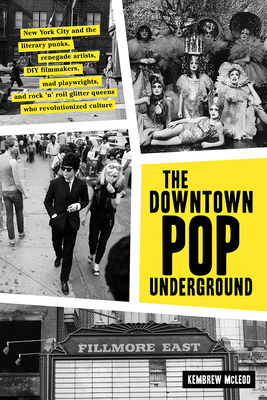 $27.00
Email or call for price.
About the Author
---
Kembrew McLeod is an award-winning author of several books whose writing has been featured in the New York Times, Los Angeles Times, Washington Post, Rolling Stone, Slate, and Salon. A professor of communication studies at the University of Iowa, he is the recipient of a recent NEH Public Scholar fellowship to support this project.
Praise For…
---
"McLeod's deft and generous book tells of a constellation of avant-garde squatters, divas, and dissidents who reinvented the world—a story which comes to seem more improbable the more meticulously he records it. Through a panoply of witnessing voices, he channels a recent past so familiar we risk taking it for granted."—Jonathan Lethem, author of The Fortress of Solitude

"Downtown New York in the latter half of twentieth century was so much more than a Warhol print and a CBGB-OMFUG T-shirt. McLeod tracked down more than 100 denizens of that freaky bohemian milieu to tell the stories most people don't know. The Downtown Pop Underground breathes new fire into a familiar history and is a must-read for anyone who wants to know how American bohemia really happened."—Ann Powers, critic, NPR Music

"The Downtown Pop Underground honors those who were at the forefront of a movement that transformed our understandings of sexuality and artistic freedom."—Lily Tomlin

"I love this book. It's filled with insight about a very important group of artists making blueprints for the avant-garde. They were so far ahead of the mainstream curve that they created new shapes out of the curve, revealing cracks in the yoke of custom and convention. McLeod has done us all a favor by focusing on the lives of these fabulous futurists and oddball observers who looked at life and showed us that reality is absurdity dressed in a three-piece suit."—Jane Wagner, author of The Search for Signs of Intelligent Life in the Universe

"Kembrew McLeod manages a Herculean task: mapping the vast spider web of intersecting trajectories in pre-careerist downtown New York. He makes it plain how much of the action occurred in theater, and how much of the culture we owe to gay men and women."—Luc Sante, author of Low Life and The Other Paris

"The Downtown Pop Underground tells the story of underground artists of the 1960s and '70s, an amalgam of bustling radical creativity and fearless groundbreaking work in art, music, and theater . . . Having walked these streets as a child, I can attest to the visceral accuracy of the book's portrayal of a time when artists affected a true change in the way that we view our culture and ourselves." —Tim Robbins

"An important addition to the cultural history of New York and America."—Booklist (Starred)

"The author covers plenty of ground smoothly and organically, immersing readers in this exciting period."

—Library Journal

"This is a fascinating look at a long-gone New York City art scene."—Publishers Weekly