I Am Peace: A Book of Mindfulness (I Am Books) (Board book)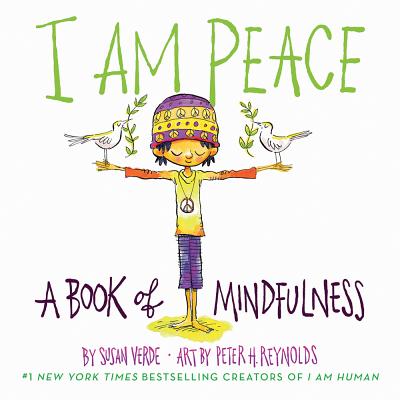 $8.99

Typically Ships in 1 - 2 Days
Description
---
New York Times bestselling author and illustrator!
Companion to I Am Love and I Am Human
"A gentle, helpful tool for cultivating kid mindfulness." —Kirkus Reviews

Discover the power of mindfulness in this companion to New York Times bestsellers I Am Human and I Am Love!

Mindfulness means being fully in the present moment. Children can learn how to manage their emotions, make good choices, and balance their busy lives by learning to be mindful, express emotions through speech, find empathy through imagination, and wonder at the beauty of the natural world.

"There are times when I worry about what might happen next and what happened before. The thoughts in my head are like rushing water, and I feel like a boat with no anchor . . . being carried away. I give myself a moment. I take a breath."

Mindfulness encourages us to pay attention to our experiences (our feelings, sensations in the body, emotions, surroundings) without judgment but with kindness and curiosity. Scientific research has proven that there are many benefits to practicing mindfulness. With so many children suffering from anxiety, there is no better tool than learning to be mindful. And it's never too early to get started.

Here is a gentle expression of the tenets of mindfulness, encouraging young children to breathe, taste, smell, and be present in the here and now. I Am Peace is a reflection of the power of mindfulness in all our lives. It is a perfect guide with which parents and teachers can help children pay attention to their feelings and learn to control their worry and anxiety.

Includes a guided meditation.

Also available:
I Am Me
I Am Yoga
I Am One
I Am Human
I Am Love
I Am Courage
I Am . . . A Box of Goodness!

About the Author
---
Susan Verde is the bestselling author of I Am Yoga, I Am Peace, I Am Human, I Am Love, I Am One, I Am Courage, I Am Me, The Museum, and You and Me, all illustrated by Peter H. Reynolds, as well as the Feel-Good Fairy Tales books, illustrated by Jay Fleck, and Rock 'n' Roll Soul, illustrated by Matthew Cordell. In addition to writing, she teaches kids yoga and mindfulness. Susan lives with her three children and their menagerie of pets in East Hampton, New York.

Peter H. Reynolds is the illustrator of many bestselling and award-winning picture books. His books include The Dot, Ish, I Am Yoga, I Am Peace, I Am Human, I Am Love, I Am One, and I Am Courage. He lives in Dedham, Massachusetts, where he operates the beloved shop Blue Bunny Books and Toys.