Scratch & Sniff Book of Weed (Board book)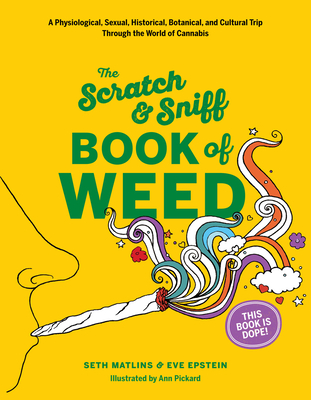 $19.95

Usually Ships in 1-5 Days
Description
---
Legal in all 50 states, this entertaining, informative, and whimsically illustrated guide covers 4,000 years of weed and its significance—psychoactive, cultural, medical, sexual, and more—in just 22 pages and with 20 scratch-&-sniff scents. From the science behind the munchies to the botanical link between weed and beer; from weed's sexual upsides to its (literal) sexual downsides; from Tupac to Shakespeare to why weed makes music sound better: This book may just be the greatest-ever gift for anyone from the cannabis connoisseur to the cannabis curious.
About the Author
---
Seth Matlins has been smoking weed since first hearing Pink Floyd in 1982. A global brand marketer with a long history in Hollywood from Rock the Vote to CAA to Live Nation, he's currently EVP, the Branded Impact Group at WME/IMG. His work has appeared everywhere from from Good Morning America to the New York Times and AdAge.

Eve Epstein is a writer, editor, and media strategist. Co-author of X vs. Y: a Culture War, a Love Story, she was the longtime editor-in-chief of DailyCandy, head of content for TakePart.com, and now runs content for Demand Media. Her writing has appeared in Vanity Fair, Glamour, Forbes, WMagazine, and beyond.

Ann Pickard has been an illustrator and painter for more than twenty years. Her art has appeared in the Los Angeles Times, California Sunday Magazine, Stock Pot Images and LA Weekly, among other publications. She lives in Southern California and is currently working on a series of paintings of mythological creatures at their day jobs.
Praise For…
---
"The Scratch & Sniff Book of Weed is more serious than you think. It's not just about novelty, it's about knowledge."

— Vice

"The overall effect is delightful. Styled as a primer for absolute beginners, the book's sections are devoted to how weed makes you feel (both the good and possible bad effects), how it functions as an aphrodisiac (there's a cheekily placed musk sticker), and a pastiche of cannabis facts. Makes for a fun stoned read and a great gift."

— High Times

"Scratch and sniff book on pot has a sense of humor, but it's also educational."
— USA Today

"Smells like the bottom of Martha Stewart's bag."

— Ellen DeGeneres

"One of those things that was long overdue."
— David Downs, The San Francisco Chronicle

"A dope book aimed at giving weed fans a full and entertaining overview of all things cannabis."

— Green Rush Daily

"It's easy to succumb to the belief that there's truly nothing new under the sun. Then along comes The Scratch & Sniff Book of Weed."
— The Cannifornian

"Equal parts fun and informative, you can sniff your way through weed's turbulent history, which is much preferable to the Wikipedia k-hole route to gaining knowledge."

— Kindland

"Get the straight dope: There's more to know about cannabis than the difference between indica and sativa. Like, 4000 years of cultural, medical, even sexual significance. There are more sticky icky icky facts out there than you can fit into your pipe - and this completely legal book is the perfect gateway into the big, beautiful world of weed.With 20 scratch-&-sniff scents and some trippy illustrations by Ann Pickard, this dope little book covers the scientific explanations of weed and beyond, into some deep corners of cannabis culture. Take a trip through the turbulent reefer timeline, from its first recorded use to its impact on ecommerce (the first thing sold on the Internet: a bag of weed). Learn about famous users (Shakespeare!), and how to hack your buzz if you're feeling too high. Whether you're a connoisseur or simply curious, this book will have something new for you to learn. And we totally get high on knowledge."
— ThinkGeek