Star Trek: Mirror Universe: Glass Empires (Star Trek: The Original Series) (Paperback)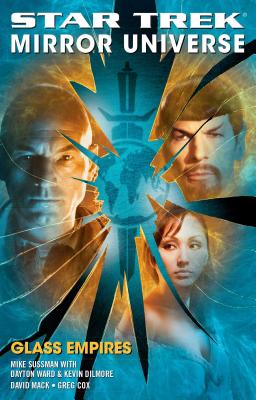 $27.99

Usually Ships in 1-5 Days
Description
---
There are moments glimpsed only in shadow, where darkness rules and evil incarnate thrives. You hope against hope that in your lifetime, evil is relegated to the shadows. But what if it wasn't?

What if you lived in a universe where your life was measured only by what you could do for the Empire? What would you do to survive? Would you sell your soul to free yourself? If you were offered the chance to rule, would you seize it? If you could free your universe from the darkness but only at the cost of your life, would you pay that price?

Star Trek: Enterprise®—she seized power in a heartbeat, daring to place herself against all the overlords of the Empire. Empress Hoshi Sato knows the future that could be; now all she has to do is make sure it never happens. For her to rule, she must hold sway not only over the starship from the future but also over her warlords, the resistance, and her Andorian husband. As quickly and brutally as Hoshi seized power, imperial rule is taken from her. Her only chance to rule again is to ally herself with a lifelong foe, and an alien.

Star Trek® One man can change the future, but does he dare? Spock, intrigued by the vision of another universe's Federation, does what no Vulcan, no emperor, has ever done: seize power in one blinding stroke of mass murder. And at the same instant he gains imperial power, Spock sows the seeds for the Empire's downfall. Is this a form of Vulcan madness, or is it the coolly logical plan of a man who knows the price his universe must pay for its freedom?

Star Trek: The Next Generation®—Humanity is a pitiful collection of enslaved, indentured, and abused peoples. No one dares to question the order, except at peril of their lives. One man survives by blinding himself to the misery around him. However, Jean-Luc Picard resists, just once. And in that one instant he unlocks a horror beyond the tyranny of the Alliance. Can a man so beaten down by a lifetime of oppression stop the destruction?
About the Author
---
David Mack is the award-winning and New York Times bestselling author of more than thirty novels of science fiction, fantasy, and adventure, including the Star Trek Destiny and Cold Equations trilogies. His writing credits span several media, including television (for episodes of Star Trek: Deep Space Nine), film, short fiction, and comic books. He resides in New York City.

Greg Cox is the New York Times bestselling author of numerous Star Trek novels and short stories. He has also written the official movie novelizations of War for the Planet of the Apes, Godzilla, Man of Steel, The Dark Knight Rises, Daredevil, Ghost Rider, and the first three Underworld movies, as well as books and stories based on such popular series as Alias, Buffy the Vampire Slayer, CSI, Farscape, The 4400, Leverage, The Librarians, Roswell, Terminator, Warehouse 13, Xena: Warrior Princess, and Zorro. He has received three Scribe Awards from the International Association of Media Tie-In Writers, as well as the Faust Award for Life Achievement. He lives in Lancaster, Pennsylvania. Visit him at GregCox-Author.com.

Dayton Ward is a New York Times bestselling author or coauthor of more than forty novels and novellas, often with his best friend, Kevin Dilmore. His short fiction has appeared in more than thirty anthologies, and he's written for magazines such as the NCO Journal, Kansas City Voices, Famous Monsters of Filmland, Star Trek magazine, and Star Trek: Communicator, as well as the websites Tor.com, StarTrek.com, and Syfy.com. A native of Tampa, Florida, he currently lives with his family in Kansas City, Missouri. Visit him on the web at DaytonWard.com.

Kevin Dilmore has teamed with author Dayton Ward for fifteen years on novels, shorter fiction, and other writings within and outside the Star Trek universe. His short stories have appeared in anthologies including Native Lands by Crazy 8 Press. By day, Kevin works as a senior writer for Hallmark Cards in Kansas City, Missouri. A graduate of the University of Kansas, Kevin lives in Overland Park, Kansas.