This Has Happened: An Italian Family in Auschwitz (Hardcover)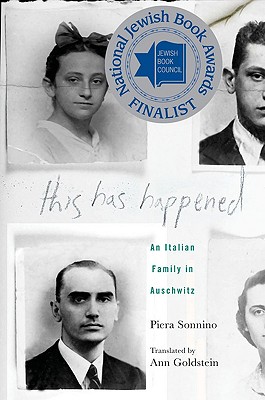 $21.95
Email or call for price.
Description
---
Five years after her return home from Auschwitz, Piera Sonnino found the courage to tell the story of the extermination of her parents, three brothers, and two sisters by the Nazis. Discovered one year ago in Italy and never before published in English, this poignant and extraordinarily well-written account is strikingly accurate in bringing to life the methodical and relentless erosion of the freedoms and human dignity of the Italian Jews, from Mussolini's racial laws of 1938 to the institutionalized horror of Auschwitz. Through Sonnino's words, memory has the power to disarm these unspeakable evils.
About the Author
---
Piera Sonnino was deported to Auschwitz in 1944. She was later transferred to Bergen-Belsen and Braunschweig. The sole survivor of a family of eight, she returned to Italy in 1950. She died in 1999. Ann Goldstein is an editor at the New Yorker. She has translated works by Roberto Calasso, Alessandro Baricco, Pier Paolo Pasolini, and Aldo Buzzi. The recipient of the PEN Renato Poggioli Translation Award, she is the editor of the forthcoming collected works of Primo Levi. She lives in New York.
Praise For…
---
"In spare, beautifully translated language, Sonnino details her life in Genoa prior to 1938, when the racial laws went into effect."--Publishers Weekly, Starred Review
 
"A moving account of a family caught up in the Shoah….An important contribution to Holocaust literature...Four illuminating essays bookend this slim memoir. David Denby acknowledges the 'tinge of irritation and guilt' people often feel upon the publication of a Holocaust memoir, then brilliantly demonstrates why this one is necessary."--Kirkus, Starred Review "I have read any number of overwhelming and despairing works about the Holocaust, but I don't think I have ever read anything so simply structured, so clearly composed--so heartfelt a tragedy, especially from the pen of someone who never considered herself a writer--as the one that unfolds in this brief memoir."--Robert Leiter, Jewish Exponent "Our world of habit would suggest that little more can be said about the Nazi death camps and the horrors of the Final Solution. But a narrative with the dignity and concise elegant candor of This Has Happened is a pointed reminder that suffering is inescapably individual, unique, and present. Piera Sonnino's account of the terrible end of her family achieves a kind of classic starkness that makes it a living representation of human loss."--W.S. Merwin, Pulitzer Prize winning poet, National Book Award winner for Migration "Piera Sonnino wasn't supposed to survive and she didn't expect anyone to read about her family's, her community's and her people's suffering. Aiming only for truth, using only the most beautiful of language, she's created an accidental masterpiece. This Has Happened is a stunning gift by a remarkable woman from an intolerable era."--Melvin Jules Bukiet, author of After, Strange Fire  "What can I say to make you read this book? That it is imperceptibly moving, encroachingly horrifying, utterly soul-wrenching? But you've heard that before, and won't believe me. Instead I will tell you this: reading this book is not at all like reading a book. Instead, it is like talking with a person, knowing a person, knowing an entire family--and then knowing, not through art but through life, what it means to lose everything, by knowing precisely what 'everything' is."--Dara Horn, award-winning author of In The Image and The World To Come "A rare, beautiful and movingly written book. The simplicity and honesty with which Sonnino conveys her family's experiences are gripping and heartbreaking. As a historical document, this book is particularly valuable in view of the fact that there are fewer records of the Holocaust experiences of Italian Jews than of most other European Jews. With the historical significance of this book comes an unobtrusive message of familial love and devotion, a message which will undoubtedly resonate for generations to come."—Nechama Tec, Holocaust Scholar and Professor Emerita of Sociology, University of Connecticut in Stamford, and author of the National Jewish Book Award-winning Resiliance and Courage: Women Men and the Holocaust "Consice, restrained, and tightly written, a look from the inside of the Holocaust out."--Entertainment Weekly "I have read any number of overwhelming and despairing works about the Holocaust, but I don't think I have ever read anything so simply structured, so clearly composed--so heartfelt a tragedy, especially from the pen of someone who never considered herself a writer--as the one that unfolds in this brief memoir." -- Robert Leiter, Jewish Exponent