American Journey: On the Road with Henry Ford, Thomas Edison, and John Burroughs (Hardcover)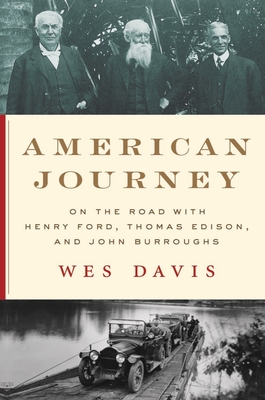 $30.00

Usually Ships in 1-5 Days
Description
---
The epic road trips—and surprising friendship—of John Burroughs, nineteenth-century naturalist, and Henry Ford and Thomas Edison, inventors of the modern age.
In 1913, an unlikely friendship blossomed between Henry Ford and famed naturalist John Burroughs. When their mutual interest in Ralph Waldo Emerson led them to set out in one of Ford's Model Ts to explore the Transcendentalist's New England, the trip would prove to be the first of many excursions that would take Ford and Burroughs, together with an enthusiastic Thomas Edison, across America.
Their road trips—increasingly ambitious in scope—transported members of the group to the 1915 Panama–Pacific International Exposition in San Francisco, the Adirondacks of New York, and the Green Mountains of Vermont, finally paving the way for a grand 1918 expedition through southern Appalachia. In many ways, their timing could not have been worse. With war raging in Europe and an influenza pandemic that had already claimed thousands of lives abroad beginning to plague the United States, it was an inopportune moment for travel. Nevertheless, each of the men who embarked on the 1918 journey would subsequently point to it as the most memorable vacation of their lives.
These travels profoundly influenced the way Ford, Edison, and Burroughs viewed the world, nudging their work in new directions through a transformative decade in American history. In American Journey, Wes Davis re-creates these landmark adventures, through which one of the great naturalists of the nineteenth century helped the men who invented the modern age reconnect with the natural world—and reimagine the world they were creating.
About the Author
---
Wes Davis is the author of American Journey and The Ariadne Objective, and his writing has appeared in the New York Times and Wall Street Journal. He grew up in the foothills of the Great Smoky Mountains and now lives outside New York City.
Praise For…
---
Jaunty.... American Journey takes us back to a time when taking the car was still a big deal, when people weren't driving so much as 'motoring' around.... Davis excels in making his characters come alive on the page.

— Christoph Irmscher - Wall Street Journal

Intriguing.... [Makes] brilliant use ... of notebooks, letters, and newspaper reports.
— Nicolaus Mills - Daily Beast

Auto magnate, inventor, and naturalist—'self-reliant' pioneers and pastoral ramblers—are united in common cause: dedication to the frontier American ethos. Wes Davis' homespun comrades forge ahead into their beloved wildernesses, and we fortunate readers tag along for a bittersweet, nostalgic ride.
— Neil Baldwin, author of Edison: Inventing the Century

Who knew the iconic American road trip began with the industrial trailblazers Henry Ford, Thomas Edison, and Harvey Firestone? Joining up with John Burroughs, the famous nineteenth-century naturalist, this unlikely foursome hit the road in 1918. They discovered a pastoral America unaware of the coming transformations, largely brought about by three of the travelers. I can't help but wonder what they would think of the very different country they helped create. American Journey is a meticulously researched and wistful gem of a book.

— Finn Murphy, author of The Long Haul: A Trucker's Tales of Life on the Road

The itinerary of American Journey steers us through a crucial portal in American history—from pastoral yesteryear to mechanized modernity. Where, oh where, would we have wound up without men like Henry Ford, Thomas Edison, Harvey Firestone, and their arcadian muse, John Burroughs, whose rosy nostalgia fueled their drive toward a future lit and streamlined by their undoubting know-how? Mind you, the route that Wes Davis maps so painstakingly is bumpy with foreboding (looking at you, Elon Musk), but the steady stream of roadside attractions and this merry band of inventor-adventurers charm at every turn.

— John Taliaferro, author of Grinnell: America's Environmental Pioneer and His Restless Drive to Save the West

A charming, sunlit excursion along one of history's more unusual byways—the safari-like road-trip adventures of two men who were changing the world, Henry Ford and Thomas Edison, and an emissary from its past, the aged essayist and naturalist John Burroughs. American Journey is a lovely rabbit-hole of a book about a country that was becoming something new, and about the bonds of friendship, which are timeless.

— William Souder, author of Mad at the World: A Life of John Steinbeck

A rare account of brilliant minds as they set off in search of America.
— Kirkus Reviews

Davis conveys the excitement and danger of early automobile travel and crafts memorable set pieces.... This historical road trip is well worth taking.
— Publishers Weekly