Murdle: Volume 2: 100 Elementary to Impossible Mysteries to Solve Using Logic, Skill, and the Power of Deduction (Paperback)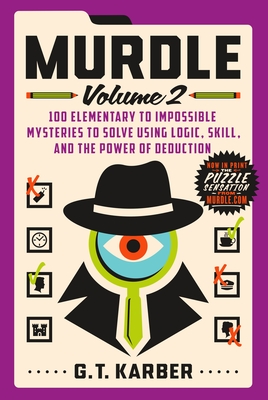 $16.00

Typically Ships in 1 - 2 Days
Other Books in Series
This is book number 2 in the Murdle series.
Description
---
NATIONALLY BESTSELLING SERIES • "Clever, satisfying and utterly addictive." ―Janice Hallett, bestselling author of The Appeal

G. T. Karber, the creator of the popular online daily mystery game Murdle, presents the next collection of 100 original murder mystery logic puzzles―a perfect gift for armchair detectives and puzzlers to hone their minds and solve a series of crimes.

Who committed the ghastly deed?
What weapon was used to dispatch the victim?
Where did the calculated demise occur?

Deductive Logico is back on the scene in Murdle: Volume 2. Based on the sensational hit online game, these clever and hilarious mini-mystery puzzles will challenge you to find whodunit, how, where, and why. Unearth the dark secrets of the Violet Isles, solve the riddles of an ancient and mysterious scholar, and explore the haunted lands of Drakonia. . . if you dare.

Packed with pictures, codes, and maps, and brimming with wit and intrigue, Murdle: Volume 2 is a thrilling casebook for the armchair detective in each of us.
About the Author
---
G. T. Karber grew up in a small town in Arkansas, the son of a judge and a civil rights attorney. He graduated summa cum laude from the University of Arkansas with a degree in mathematics and English literature. Then, he moved to Los Angeles, where he received a Masters in Fine Arts from the University of Southern California's School of Cinematic Arts.

As the General Secretary of the Hollywood Mystery Society, a theater ensemble and cinematic social club, he has overseen the staging of dozens of immersive whodunits in the Los Angeles area.
Praise For…
---
Praise for Murdle:

"Murdle is a must-read." —CBS Essentials

"Murdle is brilliant fun! Each one is like working to unravel an Agatha Christie-esque mini-mystery in a visually enticing logic puzzle. Move over Wordle, my brain cells want to solve a Murdle!" —Celeste Connally, author of Act Like a Lady, Think Like a Lord

"Murdle is a high-speed game of Clue that tortures your brain in the most enjoyable way. " —Mindy Quigley, author of Six Feet Deep Dish and Ashes to Ashes, Crust to Crust

"I'm completely obsessed with the highly addictive Murdle, a unique intersection of logic puzzles and armchair sleuthing. With an enjoyable story and challenging puzzles, I'm left wondering if anyone can be trusted." —Olivia Blacke, author of Vinyl Resting Place and A Fatal Groove

"The ultimate puzzle for secret sleuths. Sure to get those little gray cells firing." —Ellie Alexander, author of the Bakeshop Mystery series

"Thoroughly entertaining and equally as challenging. These bite-sized mysteries will keep even the most seasoned sleuths guessing." —Vivien Chien, author of the Noodle Shop Mystery series

"Murdle is perfect for the armchair detective. With a mystery story, a challenging puzzle, and just enough clues, you can be your new favorite sleuth." —Dianne Freeman, author of the award-winning Countess of Harleigh mystery series

"Clever, satisfying and utterly addictive" —Janice Hallett, bestselling author of The Appeal