Be the Love: Seven Ways to Unlock Your Heart and Manifest Happiness (Hardcover)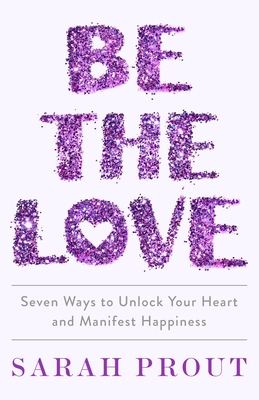 $28.99

On Our Shelves; Typically Ships in 1 - 2 Days
Description
---
The bestselling author of Dear Universe, podcast host, and "Manifestation Guru" (Cosmopolitan), shares seven simple and powerful lessons full of practical guidance, soulful exercises, and nuggets of wisdom in Be The Love—your invitation to use the power of your emotions to achieve happiness.

Emotional empowerment expert Sarah Prout shares how to Be the Love you wish to feel, and how to do it by embracing lessons such as overcoming comparison traps, finding freedom in forgiveness, and accepting that making choices is how life happens, but living with your choices is how growth happens. These lessons are illustrated by Prout's own raw, personal stories that range from humorous to harrowing.

By following the seven pieces of advice and trying them out in your own life, you will create radical and magical inner transformation, and inner transformation will lead to outer results—whether that's within your career, relationships, or something as simple as your own self-confidence as you walk down the street. If you live your life with self-love and self-compassion as your North Star, then you will thrive.
About the Author
---
Inspirational speaker and emotional empowerment expert, SARAH PROUT runs a successful spiritual lifestyle brand alongside her husband. Named a "Manifestation Guru" by Cosmopolitan Magazine, Sarah is an award-winning entrepreneur, podcast host, bestselling author, and mother of four. She is the author of the bestselling book Dear Universe: 200 Mini-Meditations for Instant Manifestations. Sarah lives in Las Vegas, Nevada.