Never Rescue a Rogue: A Novel (The Merriwell Sisters #2) (Paperback)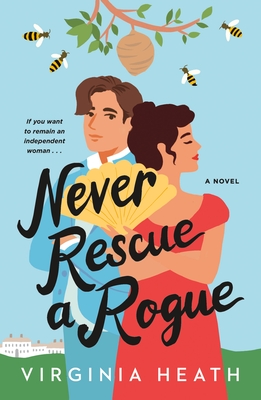 $16.99

Typically Ships in 1 - 2 Days
Other Books in Series
This is book number 2 in the The Merriwell Sisters series.
Description
---
Virginia Heath's Never Rescue a Rogue, the next book in the Merriwell Sisters series, is filled with whip-smart banter, swoony romance, hilarious mishaps, and twisty reveals that will make you gasp and laugh in delight.

Diana Merriwell and Giles Sinclair only tolerate one another for the sake of their nearest and dearest. Everyone believes that the two of them are meant to be together, but Diana and Giles know that their constant pithy barbs come from a shared disdain—not a hidden attraction. Diana loves the freedom of working at the newspaper too much to give it up for marriage, and Giles is happily married to his bachelor lifestyle. But they do have one thing in common—the secrets they can't risk escaping.

When Giles' father, the curmudgeonly Duke of Harpenden unexpectedly turns up his toes, it's only a matter of time before someone comes crawling out of the woodwork who knows the true circumstances of his only son's birth. As the threat of blackmail becomes real, Giles must uncover the truth of his parentage first, or else he and all those who depend upon him will be ruined—and dogged bloodhound Diana is his best hope at sniffing out the truth. As Giles and Diana dive into his family's past, the attraction that the two of them insisted wasn't there proves impossible to ignore. Soon, the future of the Sinclair estate isn't the only thing on the line…
About the Author
---
When Virginia Heath was a little girl it took her ages to fall asleep, so she made up stories in her head to help pass the time while she was staring at the ceiling. As she got older, the stories became more complicated, sometimes taking weeks to get to the happy ending. Then one day, she decided to embrace the insomnia and start writing them down. Now her Regency romcoms (including the Wild Warriners and Talk of the Beau Monde series) are published in many languages across the globe. Twenty-seven books and three Romantic Novel of the Year Award nominations later, it still takes her forever to fall asleep.
Praise For…
---
One of the Best Romance Novels of the Year - Cosmopolitan

Praise for Never Rescue a Rogue:

"The perfect mix of romance and intrigue, and the formidable central couple is sure to win hearts. This is a gem."- Publishers Weekly (starred review)

"Heath is carving a name for herself in historical rom-coms." - Booklist (starred review)

"A sophisticated Regency gem." - BookPage

Praise for Never Fall for Your Fiancee:

"Fans of Heath's category historicals will enjoy the first installment in her Merriwell Sisters series, an historical rom-com with refreshingly witty banter... Heath has imbued this engrossing story with her customary humor and pathos." - Booklist

"Heath's fast-paced scenes and likable characters will leave fans of Regency romps smiling." - BookPage

"For fans of historical romance, like the Bridgerton series, as well as lovers of the fake dating romance trope who like a good dose of Regency-era witty banter. This is a fun romp through the English countryside with enjoyable characters." - BookRiot

"Readers will relish this engaging, late Regency romcom's witty duo as they navigate escalating mishaps and growing feelings. Heath ("The King's Elite" series) has set the stage for an enjoyable new series." - Library Journal

"Historical romance and the fake dating trope prove to be a match made in book heaven in Never Fall for Your Fiancée by Virginia Heath." - Popsugar

"Heath launches a historical rom-com series with this fun, charming tale...This is well worth a look." - Publishers Weekly

"If you're looking for a historical romance with fake engagement trope, look no further because Virginia Heath has you covered." - Frolic

"An enjoyable escape." - USA Today

"Exuberant, funny and romantic, Virginia Heath's NEVER FALL FOR YOUR FIANCEE will steal your heart away." - Anna Campbell, award-winning author

"Filled with fabulously British banter, wit, and heart, this delightful book is one of my must-read rom coms of the year." - Evie Dunmore, USA Today bestselling author of Portrait of a Scotsman

"Virginia Heath's fun characters and situations will have you laughing out loud! Don't miss this wonderful read!" - Sabrina Jeffries, New York Times bestselling author

"Readers, prepare to grin from ear-to-ear as you fall in love with Virginia Heath's latest. For laughs, romps, and emotions galore, pick up this rich and bold romance. You can't help but root for Minerva and Hugh." - Janna MacGregor, author of Wild, Wild Rake

"NEVER FALL FOR YOU FIANCEE is a fun, page-turning Cinderella story with the twist of cheeky sisters and a slightly broken, but charming, prince who needs to offer something better than a shoe. Virginia Heath's books are always rich in love and laughter." - Cathy Maxwell, New York Times and USA Today bestselling author