Rosebud (Paperback)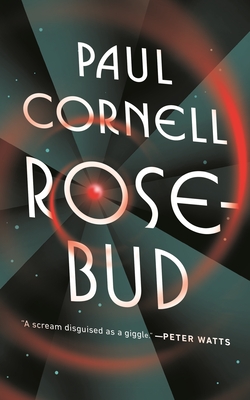 $14.99

Usually Ships in 1-5 Days
Description
---
"An elegant, elegiac examination of identity, fictionality, God and humanity itself"—Tamsyn Muir

A multilayered, locked-room science fiction novella from Paul Cornell in which five digital beings unravel their existences to discover the truth of their humanity.

"The crew of the Rosebud are, currently, and by force of law, a balloon, a goth with a swagger stick, some sort of science aristocrat possibly, a ball of hands, and a swarm of insects."

When five sentient digital beings—condemned for over three hundred years to crew the small survey ship by the all-powerful Company—encounter a mysterious black sphere, their course of action is clear: obtain the object, inform the Company, earn lots of praise.

But the ship malfunctions, and the crew has no choice but to approach the sphere and survey it themselves. They have no idea that this object—and the transcendent truth hidden within—will change the fate of all existence, the Company, and themselves.
About the Author
---
Paul Cornell has written episodes of Elementary, Doctor Who, Primeval, Robin Hood and many other TV series, including his own children's show, Wavelength. He's worked for every major comics company, including his creator-owned series Saucer State for IDW and This Damned Band for Dark Horse, and runs for Marvel and DC on Batman and Robin, Wolverine and Young Avengers. He's the writer of the Lychford rural fantasy novellas from Tor.com Publishing. He's won the BSFA Award for his short fiction, an Eagle Award for his comics, a Hugo Award for his podcast and shares in a Writer's Guild Award for his Doctor Who. He's the co-host of Hammer House of Podcast.
Praise For…
---
"No one balances the lighthearted and the unnerving more deftly than Cornell."—Daniel Abraham, co-author of The Expanse

"An elegant, elegiac examination of identity, fictionality, God and humanity itself—but also a very, very funny story about a crew of dopes. I love them all, except Bob. (In actuality Bob sort of broke my heart!)"—Tamsyn Muir, author of the Locked Tomb series

"A scream disguised as a giggle. Reading Rosebud is like going on an absurdist romp through a sunlit meadow with Douglas Adams, only to suddenly realize that you're deep in the forest and ol' Dougie has just slipped a knife between your ribs."—Peter Watts, author the Firefall series and the Rifters series

"Cutting-edge science fiction from a writer at the very top of their game."—Gareth L. Powell, author of Embers of War

"A true voyage of the imagination, simultaneously mind-wrenching and laugh-out-loud funny."—Adrian Tchaikovsky

"Paul Cornell re-imagines the classic SF idea of first contact and turns it upside down and inside out—and then twists it into a multi-dimensional thing of wonder."—Michael Cassutt, writer for Z-Nation and co-author of The Astronaut Maker

"No word is wasted here, and [Rosebud] builds into a moving story about what it means to be human, even after you have been transformed into a form that decidedly isn't."—Locus