The Bezos Blueprint: Communication Secrets of the World's Greatest Salesman (Hardcover)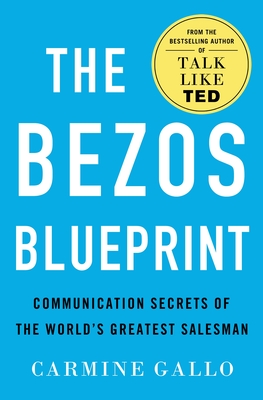 $28.99

Typically Ships in 1 - 2 Days
Description
---
The communication and leadership secrets of Jeff Bezos and how to master them, from the bestselling author of Talk Like Ted.

Jeff Bezos is a dreamer who turned a bold idea into the world's most influential company, a brand that likely touches your life every day. As a student of leadership and communication, he learned to elevate the way Amazonians write, collaborate, innovate, pitch, and present. He created a scalable model that grew from a small team in a Seattle garage to one of the world's largest employers.

The Bezos Blueprint by Carmine Gallo reveals the communication strategies that Jeff Bezos pioneered to fuel Amazon's astonishing growth. As one of the most innovative and visionary entrepreneurs of our time, Bezos reimagined the way leaders write, speak, and motivate teams and customers.

The communication tools Bezos created are so effective that former Amazonians who worked directly with Bezos adopted them as blueprints to start their own companies. Now, these tools are available to you.
About the Author
---
CARMINE GALLO, bestselling author of The Presentation Secrets of Steve Jobs, is the communications coach for the world's most admired brands. A former anchor and correspondent for CNN and CBS, Gallo is a popular keynote speaker who has worked with executives at Intel, Cisco, Chevron, Hewlett-Packard, Coca-Cola, Pfizer, and many others and writes the Forbes.com column "My Communications Coach." He lives in Pleasanton, California, with his wife and two daughters.
Praise For…
---
"Jeff Bezos' first letter to Amazon shareholders should be required reading for every entrepreneur. I keep the letter in a folder on my desk and re-read it at least once a year. In The Bezos Blueprint, Carmine Gallo examines more than two decades of Bezos letters to reveal the writing and communication strategies that should be taught to everyone with a story to tell."
—Marc Randolph, Co-Founder and First CEO of Netflix.

"When I spoke publicly in my military days as a U.S. Navy Admiral and a NATO Supreme Allied Commander, I would often dive into Carmine Gallo's evocative book on the communication skills of Steve Jobs. Carmine now turns his lens on another visionary business leader, Jeff Bezos, analyzing the Amazon founder's extensive collection of writings and speeches for unique and actionable insights that will help anyone sharpen their communication skills—highly recommended for leaders at every level!"
—Admiral James Stavridis, 16th Supreme Allied Commander at NATO

"Gallo diligently covers Bezos' way with persuasion, story structure and—central to everything—simplicity."
—The New York Times Sunday Review

"Communications coach Gallo (Talk Like TED) teaches successful speaking and writing by breaking down the communication style of Amazon founder Jeff Bezos. Intended for professionals in a business setting, the book draws lessons from real excerpts of speeches and shareholder memos that Bezos has delivered over the past 20-plus years.…An insightful guide to improving communication skills."
—Library Journal (starred)

"[An] incisive look at the communication strategies used by Amazon founder Jeff Bezos. … helpful for entrepreneurs and those working in professional communications alike. The result is a rewarding and informative take on how to craft a convincing message."
—Publishers Weekly