Magnificent Rebel: Nancy Cunard in Jazz Age Paris (Hardcover)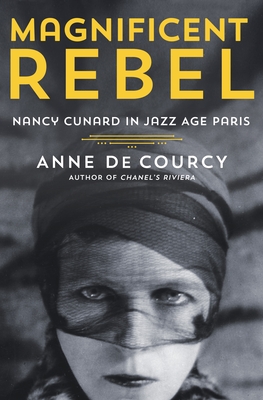 $29.99

Typically Ships in 1 - 2 Days
Description
---
Anne de Courcy, the author of Husband Hunters and Chanel's Riviera, examines the controversial life of legendary beauty, writer and rich girl Nancy Cunard during her thirteen years in Jazz-Age Paris.

Paris in the 1920s was bursting with talent in the worlds of art, design and literature. The city was at the forefront of everything new and exciting; there was no censorship; life and love were there for the taking. At its center was the gorgeous, seductive English socialite Nancy Cunard, scion of the famous shipping line. Her lovers were legion, but this book focuses on five of the most significant and a lifelong friendship.

Her affairs with acclaimed writers Ezra Pound, Aldous Huxley, Michael Arlen and Louis Aragon were passionate and tempestuous, as was her romance with black jazz pianist Henry Crowder. Her friendship with the famous Irish novelist George Moore, her mother's lover and a man falsely rumored to be Nancy's father, was the longest-lasting of her life. Cunard's early years were ones of great wealth but also emotional deprivation. Her mother Lady Cunard, the American heiress Maud Alice Burke (who later changed her name to Emerald) became a reigning London hostess; Nancy, from an early age, was given to promiscuity and heavy drinking and preferred a life in the arts to one in the social sphere into which she had been born. Highly intelligent, a gifted poet and widely read, she founded a small press that published Samuel Beckett among others. A muse to many, she was also a courageous crusader against racism and fascism. She left Paris in 1933, at the end of its most glittering years and remained unafraid to live life on the edge until her death in 1965.

Magnificent Rebel is a nuanced portrait of a complex woman, set against the backdrop of the City of Light during one of its most important and fascinating decades.
About the Author
---
Anne de Courcy is the author of several widely acclaimed works of social history and biography, including CHANEL'S RIVIERA, THE HUSBAND HUNTERS, MARGOT AT WAR, THE FISHING FLEET, THE VICEROY'S DAUGHTERS and DEBS AT WAR. She lives in London and Gloucestershire.
Praise For…
---
Praise for Magnificent Rebel:

"Luminous…A seductive portrait of life lived to the fullest." –Publishers Weekly

"A fulsome portrait of a quixotic, disruptive, talented woman." –Kirkus Reviews

"De Courcy offers a fresh perspective on a legendary time and place via profiles of fascinating individuals caught in her subject's web, presenting Cunard herself in all her turbulent complexity, controversy, epic selfishness, debilitating vulnerability and rage, lashing intelligence, and tragic self-destructiveness." —Booklist

"This bed-hopping biography by de Courcy does an excellent job conveying the reckless, decadent Jazz Age in Paris" –Library Journal

"Anne de Courcy deploys all her considerable skills....an always entertaining account of [Nancy Cunard's] most glamorous years, and the Parisian world in which she shone." –Times Literary Supplement (UK)

Praise for Chanel's Riviera:

"Intoxicating descriptions...of Chanel's life, specifically her fashion innovations and love affairs, are woven throughout the book." —New York Times Book Review

"A history of the Cote d'Azur, from the frivolity and decadence of its post-Jazz Age heyday to the terror and desperation of World War II." —Wall Street Journal

"Entertaining…a peek, at once envious and satisfyingly censorious, at the lifestyles of the rich and famous." —The Washington Post

Praise for The Husband Hunters:

"[The American heiresses] were just what was needed to shake the cocktail and bring some pizazz to the party. De Courcy conjures it all with skill." —New York Times Book Review, Editor's Choice

"Anglophiles fascinated by the intricate tribal codes of the British upper classes will find plenty to feed their interest." —Boston Globe

"A true account of the women who inspired Downton Abbey."—Vanity Fair

"Witty and well researched."—Daisy Goodwin, New York Times bestselling author of The Fortune Hunter