Alien Day (Hardcover)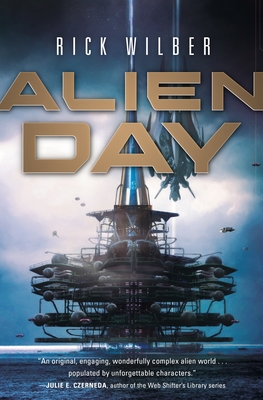 $29.99
Email or call for price.
Description
---
"An original, engaging, wonderfully complex alien world. Very highly recommended."
—Julie E. Czerneda, author of the Web Shifter's Library series

Set on a near-future Earth and on the alien homeworld of S'hudon, Rick Wilber's Alien Day explores murderous sibling rivalries, old-school mercantile colonialism, ambition, greed, and the saving strength that can emerge from reluctant heroes called to do the right thing despite the odds.

Will Peter Holman rescue his sister Kait, or will she be the one to rescue him? Will Chloe Cary revive her acting career with the help of the princeling Treble, or will the insurgents take both their lives? Will Whistle or Twoclicks wind up in charge of Earth, and how will the Mother, who runs all of S'hudon, choose between them? And the most important question of all: who are the Old Ones that left all that technology behind for the S'hudonni . . . and what if they come back?

"His Intricate and ingenious storytelling will pull you in, and then the humanity and vulnerability of his characters will break your heart." —Alan Smale, Sidewise award-winning author of the Clash of Eagles trilogy
About the Author
---
RICK WILBER is an award-winning writer and editor who has published a half-dozen novels and short-story collections, several college textbooks on writing and the mass media, and more than fifty short stories in major markets, including several published in Asimov's Science Fiction magazine that are set in the same near-future as Alien Day. He has won the Sidewise Award for Alternate History for the story, "Something Real," and his previous S'hudonni Empire novel, Alien Morning, was a finalist for the John W. Campbell Memorial Award. He lives in Florida.
Praise For…
---
Praise for Alien Day

"A truly original take on first contact, with accompanying threats of world domination and terrorism, all intertwined with nuanced explorations of identity, appearance, and gender. His complex cast of characters (human and S'hudonni) will live on in your mind long after you finish the last page."
—Alan Smale, Sidewise award-winning author of the Clash of Eagles trilogy.

"Alien Day ups the pace of the earlier, with deepening ideas about aliens and how we can respond to them. Wilber knows his stuff and the ride is racy!"
—Gregory Benford

"An original, engaging, wonderfully complex alien world. Very highly recommended."
—Julie E. Czerneda, author of the Web Shifter's Library series

"With a wry sense of humor and a host of fantastic characters, Rick Wilber's Alien Day explores a near-future
where the aliens have arrived and just want to make a profit from Earth. I really enjoyed this. Smartly written
and cleverly plotted, Alien Day is sure to be a hit. Highly recommended."
—Kevin J. Anderson, New York Times bestselling coauthor of Dune: The Duke of Caladan

"Heather is the most memorable female character I've encountered since Wonder Woman showed up in 1941 as secretary for the Justice Society. Beautiful."
—Jack McDevitt, Nebula award-winning author of Seeker


Praise for Alien Morning

"An intriguing look at colonization from the viewpoint of those being taken over."
—Publishers Weekly

"This is the start to a great trilogy . . . and an enjoyable read for any lover of first-contact sf."
—Booklist

"The best first-contact novel I've read in some time."
—Joe Haldeman

"A first contact story like no other: it eerily and wittily depicts a fast-forward vision of a near-future in which our own world is both utterly recognizable and utterly transformed. Once I started it, I couldn't put it down. Neither will you. "
—Elizabeth Hand, author of Generation Loss, Available Dark, and Hard Light

"Brilliantly crafted, fiercely real, Alien Morning is first contact as it may very well happen: experienced by one, shared by all who subscribe. Relentless and original, this is science fiction that matters now. Highly Recommended. "
—Julie E. Czerneda, author of The Clan Chronicles

"A startlingly credible reflection of how our society copes--or doesn't cope--with its own strangeness."
—Stephen R. Donaldson

"Rick Wilber's new novel brings together elements of a vivid near-future family saga and the global consequences of the arrival on Earth of technologically superior aliens. Through a charming first-person celebrity narrator who struggles with his flaws, Wilber deploys these elements so that the human drama reflects and illuminates the interspecies conflict, and vice versa, in a compellingly original way. You'll not soon forget either Peter Holman, the narrator, or Twoclicks, the S'hudonni prince with his alien antagonists and allies."
—Michael Bishop

"Effortlessly mashes up its big science fiction theme of mysterious aliens and the terrorists who love them with a gritty backstage tour of semi-professional sports and also with an unflinching look at a troubled family. . . . Rick Wilber has definitely arrived!"
—James Patrick Kelly, winner of the Hugo, Nebula and Locus awards

"What happens when journalists use senses, not just words? This nifty look at an eye-opening future is well worth your time."
—Gregory Benford, author of Timescape

"An enjoyably thought-provoking novel about human and alien sibling rivalries with potentially civilization-destroying ramifications, punctuated by basketball, high tech, and a unique alien seductress."
—L.E. Modesitt, Jr.

"Rick Wilber has written the best "first contact" story I've seen in decades: deeply human, eerily alien, and altogether an exciting, moving and thought-provoking novel."
—Ben Bova

"A rousing adventure. Kept me guessing to the last line."
—Jack McDevitt

"An engaging blend of humor, skepticism and wonder, and the futuristic elements of the story sound in many cases all too probable."
—Tampa Bay Times


Praise for Rick Wilber

"Wilber writes with literate flair, compassion, and a deep understanding of human psychology. Highly recommended!"
—Robert J. Sawyer, Hugo Award-winning author of The Oppenheimer Alternative

"Rick Wilber…tells you the truth, a quality that be unsettling sometimes, but is never less than absolutely refreshing. Wilber knows how to do justice to the nuances of a complex story, and he deserves a huge readership."
—Peter Straub