The End of Bias: A Beginning: The Science and Practice of Overcoming Unconscious Bias (Hardcover)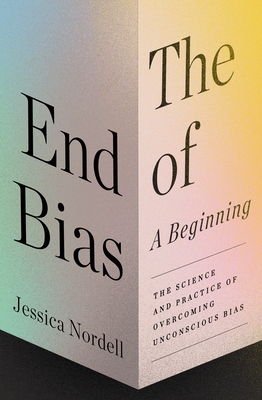 $28.99
Email or call for price.
Description
---
FINALIST FOR THE NYPL HELEN BERNSTEIN AWARD FOR EXCELLENCE IN JOURNALISM, THE LUKAS BOOK PRIZE, AND THE ROYAL SOCIETY SCIENCE BOOK PRIZE

2022 NAUTILUS BOOK AWARD SILVER MEDAL * AMERICAN SOCIETY OF JOURNALISTS AND AUTHORS HONORABLE MENTION IN GENERAL NONFICTION

NAMED A BEST BOOK OF THE YEAR BY WORLD ECONOMIC FORUM, AARP, GREATER GOOD, AND INC.

The End of Bias is a transformative, groundbreaking exploration into how we can eradicate unintentional bias and discrimination, the great challenge of our age.

Unconscious bias: persistent, unintentional prejudiced behavior that clashes with our consciously held beliefs. We know that it exists, to corrosive and even lethal effect. We see it in medicine, the workplace, education, policing, and beyond. But when it comes to uprooting our prejudices, we still have far to go.

With nuance, compassion, and ten years' immersion in the topic, Jessica Nordell weaves gripping stories with scientific research to reveal how minds, hearts, and behaviors change. She scrutinizes diversity training, deployed across the land as a corrective but with inconsistent results. She explores what works and why: the diagnostic checklist used by doctors at Johns Hopkins Hospital that eliminated disparate treatment of men and women; the preschool in Sweden where teachers found ingenious ways to uproot gender stereotyping; the police unit in Oregon where the practice of mindfulness and specialized training has coincided with a startling drop in the use of force.

Captivating, direct, and transformative, The End of Bias: A Beginning brings good news. Biased behavior can change; the approaches outlined here show how we can begin to remake ourselves and our world.

Includes illustrated charts
About the Author
---
Jessica Nordell is a science and culture journalist whose writing has appeared in the Atlantic, the New York Times, the New Republic, and many other publications. A former writer for public radio and producer for American Public Media, she graduated from Harvard University and the University of Wisconsin, Madison. She lives in Minneapolis, Minnesota. The End of Bias: A Beginning is her first book.
Praise For…
---
"Thoughtful . . . rousing . . . As the author explains, overcoming internalised bias isn't a matter of flipping a mental switch; it is a lifelong process of constantly questioning our deeply held beliefs. None of us is immune."
—The Guardian

"Too often people think in terms of discrete moments—a degrading meeting here, a fleeting comment there—but Nordell points out that bias is often iterative and chronic . . . This isn't a book that lets anyone off the hook. The End of Bias argues for a more profound sense of responsibility. "
—The New York Times Book Review

"Drawing on insights from cognitive science and social psychology . . . the book presents many convincing accounts of personal bias being reduced through self-reflection [and] emphasizes, above all, the urgent need for systemic solutions."
—The New Yorker

"The End of Bias: A Beginning opens up a new chapter on the movement to eradicate unconscious bias in some of its more pernicious arenas (education, policing, medicine, and beyond). Using a blend of scientific research and firsthand accounts, Nordell offers a practical approach to how we can move forward."
—Sloane Crosley, Departures Magazine

"A shrewd dissection of the implicit bias in the human psyche and how it could be trained to transcend it. Nordell digs deep into the realms of cognitive and social psychology, anthropology and developmental research to identify all the factors that contribute to our implicit and unconscious biases . . . Nordell not only highlights errors in our cognitive processes but also goes into depth about how to rectify them . . . The End of Bias is an exhaustively researched, illuminating book on what leads to bias and how to avoid those pitfalls."
—Rabeea Saleem, The Irish Times

"Could not be more timely,"
—Minneapolis Star Tribune

"We all have unconscious bias; it underlies our most destructive behavior. But we can change it. Informative, compassionate and necessary."
—Ruth Ozeki, author of A Tale for the Time Being and The Book of Form and Emptiness, AARP Magazine

"Thought-provoking."
—Forbes

"[The End of Bias: A Beginning] skilfully and sensitively explores ways to eradicate bias in society and oneself. Interviewing cognitive scientists and social psychologists, [Nordell] covers a huge range of methods, such as doctors' diagnostic checklists for gender equality, and a police unit practising mindfulness to diminish its use of force."
—Nature

"A gripping survey of the science of prejudice against the backdrop of racial and gender discrimination."
—Irish Times

"Forthright . . . The End of Bias: A Beginning challenges readers to work to eliminate their individual biases, inviting them to embrace compassion and empathy . . . Nordell expertly lays out the problems with the status quo—a crucial step in working towards change."
—New Statesman

"A virtuoso survey of scientific research on the causes of prejudice and programs [to address it] . . . Throughout, Nordell holds her own biases up to scrutiny . . . and draws vivid character sketches of her profile subjects. The result is a refreshingly optimistic and immersive look at how society can solve one of its thorniest problems."
—Publishers Weekly (starred review)

"Fascinating and helpful . . . Nordell clearly illuminates the psychology behind biases and the stories and lives of those negatively affected by them . . . Compelling."
—Booklist

"Revealing . . . useful . . . A practical primer for those seeking to reduce the hegemony of bias in everyday life."
—Kirkus Reviews

"My favorite book of the last year."
—Eve Rodsky, New York Times bestselling author of Fair Play and founder of the Fair Play Policy Institute

"In this highly engaging and well-researched book, Jessica Nordell weaves together a cogent blend of neuroscience and social science to explain the pervasiveness of unconscious bias and, most importantly, what we can do about it. Full of real-life examples and evidence-based interventions, The End of Bias: A Beginning demonstrates that change is possible. In need of some hope? Start here!"
—Beverly Daniel Tatum, author of Why Are All the Black Kids Sitting Together in the Cafeteria?: And Other Conversations About Race

"Despite revolutions in our understanding of bias, we're still much better at documenting the problem than solving it. When it comes to prevention and cure, Jessica Nordell's powerful book is a breakthrough. With state-of-the-art science and gripping narratives, she reveals what concrete steps individuals, groups, and institutions can take to fight prejudice."
—Adam Grant, author of Think Again: The Power of Knowing What You Don't Know and host of the TED podcast WorkLife

"The End of Bias: A Beginning is a personal testament not only to the fiery mind of Jessica Nordell but to her heart's yearning for a world in which equity and justice prevail. It is a reckoning with the tools of our time in confronting the problem of our time."
—Kao Kalia Yang, author of Somewhere in the Unknown World: A Collective Refugee Memoir

"In an age of snap judgments and empty moralizing, The End of Bias: A Beginning is a salve and a lifeboat. Nordell accompanies her incredible depth of research with the kind of attention to nuance, self-examination, and genuine compassion that marks the difference between information and wisdom. This book will not just make you want to be a better person—it will convince you that others can be better, too, all while patiently lighting the way forward."
—Jenny Odell, author of How to Do Nothing: Resisting the Attention Economy