A Beginner's Guide to Japan: Observations and Provocations (Vintage Departures) (Paperback)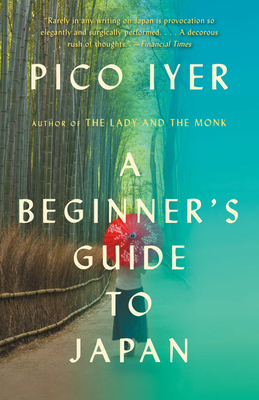 $15.95
On Our Shelves; Typically Ships in 1 - 2 Days
Staff Reviews
---
Japan is one of the most fascinating countries in the world and there's been a surge in foreign tourists in the past six years, with more to come fueled by next summer's Tokyo Olympics. This book is a rush of thoughts, factoids, observations, and unsupported convictions. It's not really a guide but provides an intriguing window into a strange and vibrant country high on many peoples bucket list.
— Carolyn
Description
---
"Arguably the greatest living travel writer" (Outside magazine), Pico Iyer has called Japan home for more than three decades. But, as he is the first to admit, the country remains an enigma even to its long-term residents. In A Beginner's Guide to Japan, Iyer draws on his years of experience—his travels, conversations, readings, and reflections—to craft a playful and profound book of surprising, brief, incisive glimpses into Japanese culture. He recounts his adventures and observations as he travels from a meditation hall to a love hotel, from West Point to Kyoto Station, and from dinner with Meryl Streep to an ill-fated call to the Apple service center in a series of provocations guaranteed to
pique the interest and curiosity of those who don't know Japan—and to remind those who do of its myriad fascinations.
About the Author
---
Pico Iyer is the author of fifteen books, translated into twenty-three languages, and has been a constant contributor for more than thirty years to Time, The New York Times, Harper's Magazine, the Los Angeles Times, and more than 250 other periodicals worldwide. His four recent talks for TED have received more than ten million views. www.picoiyerjourneys.com
Praise For…
---
"Rarely in any writing on Japan is provocation so elegantly and surgically performed . . . A decorous rush of thoughts." —Financial Times

"Both deep and witty. . . . Iyer makes a perfect cultural translator. What he offers us is a Japan inside out, its inner workings laid bare and made intelligible." —The Times Literary Supplement (London)

"When one of the best-loved travel writers of our time comes out with a book that is part cheat sheet and part tribute to his home of over thirty years, it's not an understatement to say that it is a must-read." —Elle (India)

"A glimpse into the humorous and profound moments that reveal the essence of the island nation." —Afar

"With an elegant, understated manner, Iyer offers poignant reflections on his adopted country and its maddening contradictions and shifting parts. . . . Marvelously nuanced reflections on a nation 'in constant motion.'" —Kirkus Reviews
 
"[A] lovely pocket compendium of oddities and insights of Japanese life. . . . Provocative and elegant, Iyer's guide succeeds precisely because it doesn't attempt to be authoritative." —Publishers Weekly (starred review)
 
"Iyer's observations and provocations are packaged in spare but descriptive prose, so fitting for the minimalist tradition in Japanese art and literature." —PopMatters
 
"One of the most profound strengths of A Beginner's Guide to Japan is the way it winds up emphasizing what it is to feel like a beginner as much as it emphasizes Japan itself. Iyer's assertions about Japan . . . seem to come not from some obscured authorial voice, but from a specific human being who is trying to begin an intimate conversation with a reader." —Chapter 16
 
"Candid and wholly absorbing, Iyer's inventive guidebook is more than a collection of cultural curiosities—it's a tribute to a nation that prizes social consciousness and sees life in temporality." —Booklist (starred review)
 
"Iyer's Japan is a captivating, and sometimes maddening portrait of a nation unlike any other. . . . This meditative and occasionally cheeky guide to Japan from Pico Iyer will delight Japanophiles and armchair travelers alike." —Shelf Awareness
 
"Insightful and profound without claiming to be authoritative. . . . Despite his genuine humility, Iyer can nail Japan with lyrical eloquence. . . . Always mindful of describing a hall of mirrors, Iyer shifts nimbly between perspectives, embracing inconsistency like a sage." —The Japan Times