The Far Away Brothers: Two Young Migrants and the Making of an American Life (Paperback)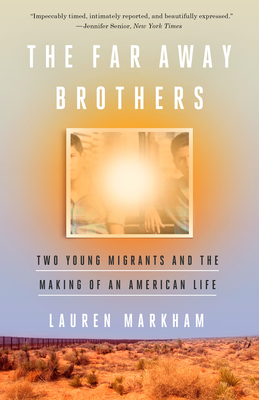 $17.00
Email or call for price.
Description
---
The deeply reported story of identical twin brothers who escape El Salvador's violence to build new lives in California—fighting to survive, to stay, and to belong.

Growing up in rural El Salvador in the wake of the civil war, the United States was a distant fantasy to identical twins Ernesto and Raul Flores—until, at age seventeen, a deadly threat from the region's brutal gangs forces them to flee the only home they've ever known. In this urgent chronicle of contemporary immigration, journalist Lauren Markham follows the Flores twins as they make their way across the Rio Grande and the Texas desert, into the hands of immigration authorities, and from there to their estranged older brother in Oakland, CA. Soon these unaccompanied minors are navigating school in a new language, working to pay down their mounting coyote debt, and facing their day in immigration court, while also encountering the triumphs and pitfalls of teenage life with only each other for support. With intimate access and breathtaking range, Markham offers an unforgettable testament to the migrant experience.

NAMED ONE OF THE BEST BOOKS OF THE YEAR BY THE NEW YORK TIMES BOOK REVIEW | WINNER OF THE RIDENHOUR BOOK PRIZE | SILVER WINNER OF THE CALIFORNIA BOOK AWARD | FINALIST FOR THE LOS ANGELES TIMES BOOK PRIZE | SHORTLISTED FOR THE J. ANTHONY LUKAS BOOK PRIZE | LONGLISTED FOR THE PEN/BOGRAD WELD PRIZE FOR BIOGRAPHY
About the Author
---
Lauren Markham is a writer based in Berkeley, California. Her work has appeared in VQR, VICE, Orion, Pacific Standard, Guernica, The New Yorker.com, on This American Life, and elsewhere. Lauren earned her MFA in Fiction Writing from Vermont College of Fine Arts and has been awarded Fellowships from the Middlebury Fellowship in Environmental Journalism, the 11th Hour Food and Farming Journalism Fellowship, the Mesa Refuge, and the Rotary Foundation. For the past decade, she has worked in the fields of refugee resettlement and immigrant education.
Praise For…
---
"The Far Away Brothers is impeccably timed, intimately reported and beautifully expressed. Markham brings people and places to rumbling life; she has that rare ability to recreate elusive, subjective experiences—whether they're scenes she never witnessed or her characters' interior psychological states—without taking undue liberties. In many ways, her book is reminiscent of Adrian Nicole LeBlanc's Random Family. It's about teenagers who raise themselves."—Jennifer Senior, The New York Times

"This is the sort of news that is the opposite of fake…Markham is our knowing, compassionate ally, our guide in sorting out, up close, how our new national immigration policy is playing out from a human perspective...An important book."—The Minneapolis Star Tribune

"An indelible picture...of one imperfect family driven apart and astray—not by inequality or lax enforcement, but by the humanitarian crisis of gang warfare."—Vulture

"Painstakingly reported…A compassionate look at the lives of two young men and the family they left behind when they were seventeen years old…[This] book could not have come at a more relevant time." —Mother Jones

"Markham recreates each step of the story in rich detail...Powerful." —Pacific Standard

"Deserves a place alongside the strongest in the genre....By the book's end, it's impossible to not be rooting for [the Flores brothers]. The book's true victory, however, is in its insights into how the gang crisis in El Salvador and neighboring countries is impacting individual lives—and what lengths these individuals will go to, in chillingly descriptive detail, to persevere." —PopMatters

"Lauren Markham understands the complexities of immigration to the United States...Compelling." —Sojourner

"Excellent...a clear-eyed look at what many [immigrants] actually experience." —The Mercury News

"Markham functions as an empathetic intermediary amid ordinary and extraordinary struggles. She is implicated in the boys' search for a livable life, but her closeness to the situation does not impede her analysis....The Far Away Brothers...tell[s] a story of courage and failure, tenacity and loss, loyalty and fumbling steps into an unknown future." —The Christian Century

"Timely and thought-provoking…Markham provides a sensitive and eye-opening take on what's at stake for young immigrants with nowhere else to go."—Publishers Weekly

"Powerful…Focusing primarily on one family's struggle to survive in violence-riddled El Salvador by sending some of its members illegally to the U.S.,...[this] compellingly intimate narrative…keenly examines the plights of juveniles sent to America without adult supervision….One of the most searing books on illegal immigration since Sonia Nazario's Enrique's Journey." —Kirkus [starred review]

"A stark examination of youth migration and the extreme risks taken to access a better life....Markham questions the accessibility of the American dream while compassionately narrating Raúl and Ernesto's experiences." —Booklist

"An affecting and personal look into the experiences of minor migrants." —Library Journal

"This brilliantly reported book goes so deeply into the lives of its protagonists and is so beautifully, movingly written it has some of the pleasures of a novel—but all the force of bitter truth, the truth about the lives of unaccompanied minors in the USA, about poverty, the ricocheting wars here and there, and the caprices and brutalities of immigration policy. Anyone who wants to understand more deeply how we got here and why we need to keep going until we get someplace better should dive into this book." —Rebecca Solnit, author of The Mother of All Questions

"Beautifully written, The Far Away Brothers examines the claustrophobic space between grinding poverty and brutal gang violence that drives so many children from El Salvador to make the dangerous journey North. Lauren Markham applies the eye of an artist to the dogged reporting of an investigative journalist. What a fine and timely book!" —Ted Koppel, author of Lights Out

"In the midst of a contentious debate in which reality is too often bent or ruptured entirely, The Far Away Brothers is a necessary book. But it is so much more than just that. Told with elegant detail, profound compassion, and painful truth, you will come out of this story with so much knowledge and, more importantly, understanding—of immigrants and also of youth. Lauren Markham has written this book in a hard and noble way, depicting the Flores brothers not only as representatives of a vital issue, but as human beings: complicated, special, humorous, and flawed. You need to meet these young men." —Jeff Hobbs, author of The Short and Tragic Life of Robert Peace

"A twenty-first century odyssey, The Far Away Brothers will take readers to unimaginable places, mapped and unmapped, in heart and mind as well as on the earth's surface. This is one of the finest accounts ever written of the plight of unaccompanied migrant children, full of insight and empathy, and as gripping a tale as one might hope to find in a masterful suspense novel. By making the Flores twins come alive, Lauren Markham puts flesh and bone on one of the most shadowy yet most pressing crises of our day and age." —Carlos Eire, author of Waiting for Snow in Havana and Learning to Die in Miami

"Lauren Markham has written a modern day epic with The Far Away Brothers. It is a wonderfully unfolding, intimate portrait of family and the dangers people are still willing to risk for a simple chance at a better life. Markham's writing reads like the best of fiction out there, and yet... remember, this happened to real people. This is the sort of book you'll be thinking about at night." —Domingo Martinez, author of The Boy Kings of Texas

"The most moving revelation of this book comes not from the geo-political lessons we learn, the path of the brothers through the desert, or the obstacles they face in U.S. courts—rather, it's the insight into how that journey affects them, plaguing them with anxiety and guilt but also inspiring hope, ambition, and responsibility. From a lesser writer this would be a simple migration story, but thanks to Markham's relentless reporting and care, it becomes a deeply relatable tale of human transformation—messy, stumbling, and bursting with optimism."—Laura Tillman, author of The Long Shadow of Small Ghosts

"Once you've read this remarkable reporting, 'immigration' will never be an abstract or airless debate for you again. It's hard to imagine a more timely or more valuable volume." —Bill McKibben, author of Radio Free Vermont