City of Liars and Thieves (Paperback)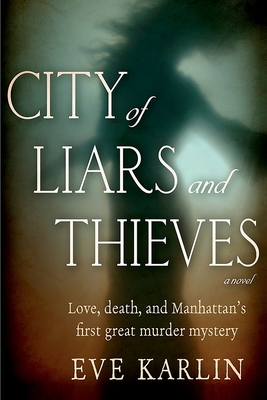 $16.00

Usually Ships in 1-5 Days
Description
---
The True Story of the Manhattan Well and New York City's First Great Murder Mystery
A crime that rocked a city. A case that stunned a nation. Based on the United States' first recorded murder trial, Eve Karlin's spellbinding debut novel recreates early nineteenth-century New York City, where a love affair ends in a brutal murder and a conspiracy involving Alexander Hamilton and Aaron Burr erupts in shattering violence.
It is high time to tell the truth. Time for justice. . . . How she was murdered and why she haunts me. It is not only Elma's story, it's mine.
On the bustling docks of the Hudson River, Catherine Ring waits with her husband and children for the boat carrying her cousin, Elma Sands. Their Greenwich Street boardinghouse becomes a haven for Elma, who has at last escaped the stifling confines of her small hometown and the shameful circumstances of her birth. But in the summer of 1799, Manhattan remains a teeming cesspool of stagnant swamps and polluted rivers. The city is desperate for clean water as fires wreak devastation and the death toll from yellow fever surges.
Political tensions are rising, too. It's an election year, and Alexander Hamilton is hungry for power. So is his rival, Aaron Burr, who has announced the formation of the Manhattan Water Company. But their private struggle becomes very public when the body of Elma Sands is found at the bottom of a city well built by Burr's company.
Resolved to see justice done, Catherine becomes both witness and avenger. She soon finds, however, that the shocking truth behind this trial has nothing to do with guilt or innocence.