Estranger (Paperback)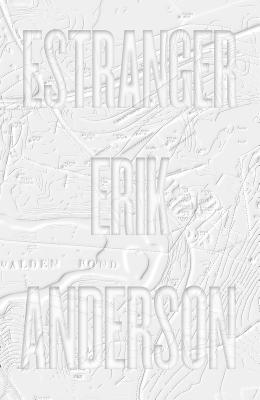 Description
---
Literary Nonfiction. Fiction. Hybrid Genre. ESTRANGER begins with a memoirist's problem the suppressed story of a grandfather's death on the south side of Chicago in 1984 but ESTRANGER is no memoir. ESTRANGER reexamines and reinvents genre, as one family's story enters an intricate constellation of subjects: animal intelligence, museum architecture, films by Werner Herzog and Michael Haneke and Hou Hsiao-Hsien, Camus's The Stranger, Thoreau's journals, the work of artists Kara Walker and Cy Twombly. In the tradition of writers such as W.G. Sebald, Michael Ondaatje, and Rebecca Solnit, Erik Anderson's second book blends essay and invention into an exploration of vulnerability and detachment, a book that pushes against the limits of both everyday thought and literary form. The result is a work of restless, precise intelligence and disquieting originality.

So what does this have to do with strangeness, she asked. What does this have to do with your family? The obvious answer, I said, is that I'm here to figure it out, but on some level I don't really want to know.

"Though a hallmark of Erik Anderson's virtuosity is his allergy to category, we might describe ESTRANGER as itself a catalog of everyday alienations, one organized by bottomless intellect and searing honesty. Anderson is a direct descendant of Thoreau and Herzog, while also extending their inquiry into the realm they didn't dare: fatherhood and family. A stunning, moving, essential book." Claire Vaye Watkins

"'Rumination, ' the memoirist- narrator of ESTRANGER once told his wife, 'is the only thing I'm good at.' The 'only' is far too modest, I'm sure, but we feel no doubt as we read that we are in the hands of a world-class ruminator. This inward saga delights and surprises as its meanders become connections and as its themes estrangement, engagement, art and sacrifice gather critical mass. A man in search of the terms of his existence, who will allow nothing he notices, thinks or remembers to go unexamined, Anderson achieves a striking vibrancy of tone. ESTRANGER is subtle and gratifying." Sven Birkerts

"ESTRANGER is a beautiful book, a descent into the meaning of parenthood and selfhood, a reckoning with contentment. In the manner of Sebald, or the even more contemporary Knausgaard, Anderson's anti-hero is vulnerable and curious, reading his life as a series of texts from film to novels in an attempt to understand the world he both creates and rejects. This is the story of a self at once removed and embodied, a self wanting to be more alive than is possible. In Anderson's work, a narrator attempts through leaving to be more than a man who leaves through escape, he hopes to be present, to love what he has been given, this one life, this blessing. What if I was wrong all along? The question haunts him, and us, too, as this book calls into question the artistic life, the very writerly space of restlessness." Suzanne Scanlon.