Hardship to Homeland: Pacific Northwest Volga Germans (Revised, Expanded) (Paperback)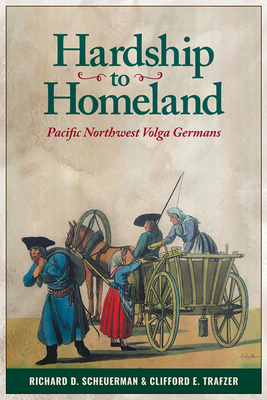 $24.95
Email or call for price.
Description
---
Hardship to Homeland recounts Volga Germans' unique story in a saga that stretches from Germany to Russia and across the Atlantic. Burdened by war and debt, life was extremely difficult for impoverished European peasants until a former German princess came to power. Seeking to increase borderland population, provide a buffer against Ottoman Empire incursions, and bring agricultural ingenuity to her country, Russian empress Catherine II issued a remarkable 1763 manifesto inviting Europeans to immigrate. Their passage paid, colonists would become Russian citizens, yet retain their language and culture. For the next four years, some 27,000 settlers came--mostly from Hesse and the Palatinate--founding 104 communities along both banks of the Volga River near Saratov and introducing numerous agricultural innovations.
But the Russian Senate revoked the original settlement terms in 1871. Facing poor economic conditions and a forced Russian army draft, 100,000 Volga Germans joined other immigrant waves to the New World. After a decade of hardship in the Midwest, some began moving to the Pacific Northwest, and their westward movement was one of the region's largest single ethnic group migrations. From outposts in Washington State they spread throughout the Columbia Basin, along the coast, and into northern Idaho, Oregon, British Columbia, and Alberta, transforming their new homelands into centers of western productivity and significantly influencing North American religion, politics, and social development.
Hardship to Homeland
is a revised and expanded reprint of
The Volga Germans: Pioneers of the Northwest
, published in 1985 and long out of print. This edition offers a new introduction as well as Volga German folk stories from the Pacific Northwest, collected and retold by Richard D. Scheuerman, with illustrations by Jim Gerlitz.