David Netto (Hardcover)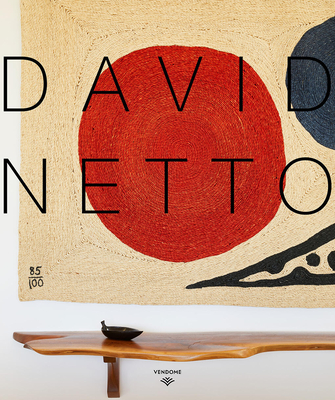 $75.00

Usually Ships in 1-5 Days
Description
---
David Netto is the first monograph of a distinctive voice in American design whose work, a blend of sophisticated finishes, textiles, antiques, and contemporary furniture, has won him a dedicated following from tastemakers.

For more than a decade, award-winning designer David Netto has been profiling the leading lights of the design world in lively, illuminating articles for numerous publications. Now, at long last, he turns his erudite eye and rapier wit to his own work as an interior and architectural designer.

Featuring some 20 projects, ranging from city apartments and country houses to seaside and mountain getaways, David Netto reveals an eclectic aesthetic that brings to modernism a touch of warmth and personality and to traditionalism a jolt of energy and a dash of the exotic. Extensively photographed and with delightful watercolor illustrations by interiors artist Mita Bland, the book is as enlightening to read as it is inspiring to look at.
About the Author
---
David Netto dropped out of Harvard's department of architecture to found his studio in New York in 2000. He has written on architecture and design for the Wall Street Journal, the New York Times, Cabana, and other publications, and he currently writes the "Case Studies" column for Town & Country. He is the author of monographs of François Catroux and Stephen Sills, and his interiors have appeared in Vogue, ELLE Decor, Architectural Digest, House Beautiful, House & Garden, Town & Country, and Veranda. He divides his time between Los Angeles and Amagansett, Long Island.
Mita Bland is a watercolorist specializing in interior renderings. She lives in Stanfordville, New York.
Praise For…
---
"In this first monograph, the celebrated designer and TC contributor David Netto shares 20 of his projects—from the city to the seashore—along with illustrations by Mita Bland to showcase the warmth and wit that have become his calling card, both in houses and on the page. Until you can get the man himself inside your own abode, pouring over this must read just might be the next thing."
—
Town & Country
"This monograph by the New York-born and Los Angeles-based designer and writer David Netto is an interesting work. It is in the familiar structure of town/country/escape projects. But there, any similarity to what you might be used to seeing in a book about interior design ends. This is one to return to again and again. Why? First, the photographs leap off the page. They are dichotomous: both intimate and expansive as they set each scene. Secondly – and equally significantly – the narratives that accompany the projects soar."
—
House & Garden
"[
David Netto
] may be the most beautifully conceived, elegantly designed, and eloquently written monograph on interior design ever published. I know no other interior designer whose work brings lightness and humor and common sense together with erudition and connoisseurship as his does. It is a combination only he is able to pull off."—
Paul Goldberger
"A Harvard architecture school dropout turned celebrated interior designer, David Netto has also earned a reputation as a sharp design writer and historian. Now, he turns his keen eye (and pen) toward his own work with a compilation of 20 projects ranging from sleek city abodes to spacious country homes."
—
Cultured
"David Netto is the first monograph of the celebrated designer and depicts more than twenty design projects from across the country. Netto's projects are best known for their stylish blend of sophisticated finishes, textiles, antiques, and contemporary furniture, and the 320-page book captures th­­at beautifully."
—
New England Home