Inspired Design: The 100 Most Important Designers of the Past 100 Years (Hardcover)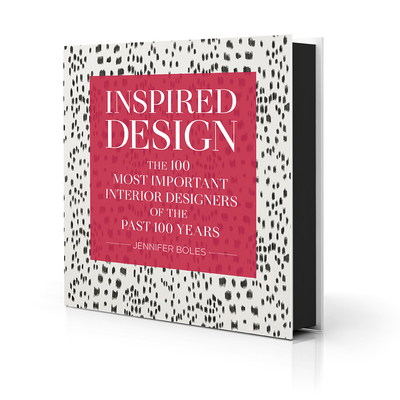 $75.00
Usually Ships in 1-5 Days
About the Author
---
Jennifer Boles created one of the first design blogs, the award-winning The Peak of Chic, in 2008. She has been profiled in the New York Times, Elle Decor, and Town & Country, among other publications.
Praise For…
---
"In her new book Inspired Design Jennifer Boles profiles the 100 most influential designers of the past 100 years, revealing how they shaped the decorating landscape."
— House Beautiful
"Jennifer Boles's essential primer on the most important interior decorators from the last 100 years."
— Veranda
"Unlike most decorating books, which focus on one designer, one style, or even one kind of house, Inspired Design takes in the full scope of design over the last century and starts naming names. . . . Armchair observers of the decorating world will be interested in the list."
— Flower
"This might be the most coveted list of all in the world of interior design. Here, at last, are the on hundred designers everyone who loves design needs to know--and who continue to inspire. The book is a fascinating time line of the evolution of interior design and decoration."
— Milieu
"This roundup of interior design's greatest visionaries from around the globe examines how each of the professionals profiled has influenced the world of design in his or her own unique way."
— LUXE Interiors + Design
"Inspired Design should get a younger generation of designers to take deep dives into the careers of people whom 'we have benefitted from.' So set aside Instagram and open a book, Inspired Design among them."
— Architectural Digest
"The publication of Jennifer Bole's Inspired Design was the design event of the fall, an exhaustive survey of every major decorator of the past century and an essential for every aficionado's library."
— Veranda