The Ladies' Village Improvement Society Cookbook: Eating and Entertaining in East Hampton (Hardcover)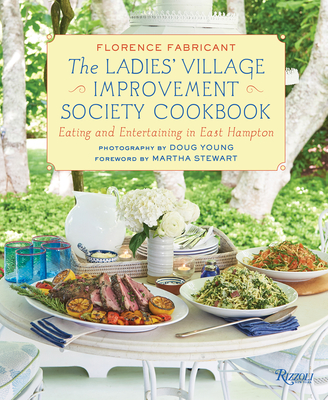 $45.00

Typically Ships in 1 - 2 Days
Description
---
A delicious melding of traditional taste with the flavors of the Hamptons, this cookbook offers 100 recipes for entertaining as well as for everyday meals.

Gifted with waters brimming with local fish and with farmland that produces a bounty of fruit and vegetables, the Hamptons have long been a destination for food lovers. Now, one of the most historic organizations on the island pairs with legendary food writer Florence Fabricant to capture the local color through a collection of recipes from members of the Ladies' Village Improvement Society, renowned chefs and celebrities who live or vacation in East Hampton (including Martha Stewart, Ina Garten, Hilaria Baldwin, Alex Guarnaschelli, and Eli Zabar), and favorite local figures like farmers and vintners.

Organized into twenty menus, including "Dinner After the Movies," "Autumn Catch," and "Lunch by the Pool," the recipes encompass the uniquely broad range of gatherings, from special-occasion celebrations to casual family meals or big beach picnics for a crowd. Vibrant original photographs shine a light on the freshness and originality of the food and the local spots from beaches to farm stands, while historical photographs and anecdotes from the Ladies' Village Improvement Society archives and local newspapers express the best of Hamptons eating.
About the Author
---
The Ladies' Village Society of East Hampton is a 125-year-old nonprofit established for the preservation of historical landmarks, parks, greens, and trees in East Hampton and the surrounding area. Florence Fabricant is an acclaimed food writer who contributes regularly to the New York Times. She is the author of thirteen cookbooks.
Praise For…
---
"...The Ladies' Village Improvement Society Cookbook: Eating and Entertaining in East Hampton gathers a carefully curated selection of 21 menus with more than 100 recipes from LVIS members, notable chefs and a few celebrity friends—all meeting Fabricant's well-honed set of standards. The result is a hefty, 250-page tome filled with fabulous photos by Doug Young (as well as vintage images), history and lore from professional editor, ghostwriter and LVIS member Bess Rattray, and a foreword by Martha Stewart." —DAN'S PAPER 

"This edition is a lavish 256-page book, illustrated with more than 200 photos by Doug Young. It features more than 100 recipes for food and drink, grouped into 20 menus, with directions on how to splendify everything from everyday meals to poolside lunches. In addition, there are strawberry-and tomato-themed celebrations to feature items from the East End's famed local produce." —THE INDEPENDENT

"Written with a similar spirit to a Junior League cookbook, albeit one with a Northern twist and some celebrity cameos, The Ladies' Village Improvement Society Cookbook (Rizzoli; $45) marks the 125th anniversary of the well-known beach town's nonprofit with a collection of its members' recipes including some from Martha Stewart and Ina Garten." —ATLANTA HOMES & LIFESTYLES 

"If the outside world's impression of East Hampton is that of buxom and pale hydrangea Macrophylla bowing to the ocean breeze, tables laden all'aperto with crisp blue linens and shiny white Apilco porcelain, wealth and celebrities, country clubs and fabulous restaurants, well, then, this glossy quasquicentennial "The Ladies Village Improvement Society Cookbook" will firmly cement that impression." —EAST HAMPTON STAR