Making the Early Modern Metropolis: Culture and Power in Pre-Revolutionary Philadelphia (Early American Histories) (Paperback)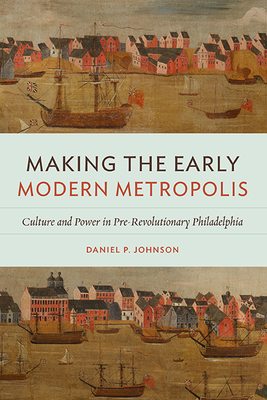 Description
---
Philadelphia was the most dynamic city in seventeenth- and eighteenth-century British America. In Making the Early Modern Metropolis, Daniel Johnson takes a thematic approach to Philadelphia's related economic, legal, and popular cultures to provide a comprehensive view of its urban development, taking readers into this colonial city's homes, workshops, taverns, courtrooms, and public spaces to provide a detailed exploration of how everyday struggles shaped the city's growth.
Philadelphia's evolution, Johnson argues, can only be understood by situating it within an explicitly early modern and Atlantic framework to show that inherited beliefs, which originated in late medieval and Renaissance Europe, informed urban social and cultural developments. Until now, histories of early Philadelphia, and Pennsylvania at large, have emphasized its novel commitment to liberal and modern religious, economic, and political principles. Making the Early Modern Metropolis reveals that it was in the interplay of inherited and often competing systems of belief during a period of profound transformation throughout the Atlantic world that early modern cities like Philadelphia were shaped.
About the Author
---
Daniel P. Johnson is Assistant Professor of American Culture and Literature at Bilkent University, Ankara.