The Wind in the Willows (Modern Library Classics) (Paperback)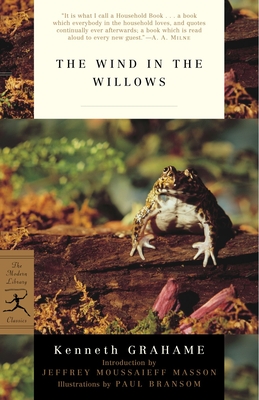 $14.00

On Our Shelves; Typically Ships in 1 - 2 Days
Description
---
"The boastful, unstable Toad, the hospitable Water Rat, the shy, wise, childlike Badger, and the Mole with his pleasant habit of brave boyish impulse," noted Vanity Fair nearly a century ago, "are types of that deeper humanity which sways us all." Written by Kenneth Grahame as bedtime stories for his son, The Wind in the Willows continues to delight readers today.

Basing his fanciful animal characters on human archetypes, Grahame imparts a gentle, playful wisdom in his timeless tales. Few readers will be able to resist an invitation to join the Wild Wooders at Toad Hall, enjoy a quick splash in the river with Rat and Badger, or take a swerving ride with Toad in a "borrowed" motor-car. This Modern Library Paperback Classic is set from the first illustrated American edition of 1913.
About the Author
---
JEFFREY MOUSSAIEFF MASSON is the New York Times bestselling author of several books, including Dogs Never Lie About Love. He lives in New England.
Praise For…
---
"It is what I call a Household Book . . . a book which everybody in the household loves, and quotes continually ever afterwards; a book which is read aloud to every new guest."
–A. A. Milne