The Dante Club: A Novel (Paperback)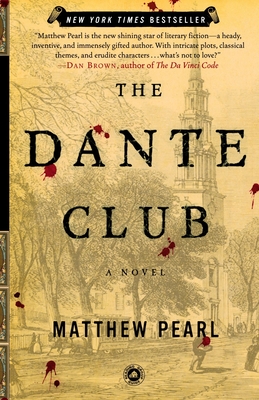 $18.00

Typically Ships in 1 - 2 Days
Staff Reviews
---
A literary mystery featuring some of the greatest intellectuals of the 1800s.  Gruesome, smart, and an effective page-turner.  For both book nerds and mystery lovers.
— Jesse
Description
---
NEW YORK TIMES BESTSELLER • Before The Dante Chamber, there was The Dante Club: "an ingenious thriller that . . . brings Dante Alighieri's Inferno to vivid, even unsettling life."—The Boston Globe

"With intricate plots, classical themes, and erudite characters . . . what's not to love?"—Dan Brown, author of The Da Vinci Code and Origin

Boston, 1865. The literary geniuses of the Dante Club—poets and Harvard professors Henry Wadsworth Longfellow, Dr. Oliver Wendell Holmes, and James Russell Lowell, along with publisher J. T. Fields—are finishing America's first translation of The Divine Comedy. The powerful Boston Brahmins at Harvard College are fighting to keep Dante in obscurity, believing the infiltration of foreign superstitions to be as corrupting as the immigrants arriving at Boston Harbor.

But as the members of the Dante Club fight to keep a sacred literary cause alive, their plans fall apart when a series of murders erupts through Boston and Cambridge. Only this small group of scholars realizes that the gruesome killings are modeled on the descriptions of Hell's punishments from Dante's Inferno. With the lives of the Boston elite and Dante's literary future in the New World at stake, the members of the Dante Club must find the killer before the authorities discover their secret.

Praise for The Dante Club

"Ingenious . . . [Matthew Pearl] keeps this mystery sparkling with erudition."—Janet Maslin, The New York Times

"Not just a page-turner but a beguiling look at the U.S. in an era when elites shaped the course of learning and publishing. With this story of the Dante Club's own descent into hell, Mr. Pearl's book will delight the Dante novice and expert alike."—The Wall Street Journal

"[Pearl] ably meshes the . . . literary analysis with a suspenseful plot and in the process humanizes the historical figures. . . . A divine mystery."—People (Page-turner of the Week)

"An erudite and entertaining account of Dante's violent entrance into the American canon."—Los Angeles Times

"A hell of a first novel . . . The Dante Club delivers in spades. . . . Pearl has crafted a work that maintains interest and drips with nineteenth-century atmospherics."—San Francisco Chronicle
About the Author
---
Matthew Pearl is the New York Times bestselling author of The Dante Club, The Poe Shadow, The Last Dickens, The Technologists, The Last Bookaneer, and The Dante Chamber, and the editor of the Modern Library editions of Dante's Inferno (translated by Henry Wadsworth Longfellow) and Edgar Allan Poe's The Murders in the Rue Morgue: The Dupin Tales. His books have been translated into more than thirty languages, and his nonfiction writing has appeared in The New York Times, The Wall Street Journal, The Boston Globe, and Slate.
Praise For…
---
"Ingenious . . . [Matthew Pearl] keeps this mystery sparkling with erudition."—Janet Maslin, The New York Times

"Not just a page-turner but a beguiling look at the U.S. in an era when elites shaped the course of learning and publishing. With this story of the Dante Club's own descent into hell, Mr. Pearl's book will delight the Dante novice and expert alike."—The Wall Street Journal

"[Pearl] ably meshes the . . . literary analysis with a suspenseful plot and in the process humanizes the historical figures. . . . A divine mystery."—People (Page-turner of the Week)

"An erudite and entertaining account of Dante's violent entrance into the American canon."—Los Angeles Times

"A hell of a first novel . . . The Dante Club delivers in spades. . . . Pearl has crafted a work that maintains interest and drips with nineteenth-century atmospherics."—San Francisco Chronicle

"Pearl's ingenious notion is to set his début novel in Boston in 1865, when Henry Wadsworth Longfellow, James Russell Lowell, and Oliver Wendell Holmes were translating Dante into English."—The New Yorker

"A most ingenious and beautifully written mystery—one that reminds us that siphoning meaning from chaos is also the métier of the detective."—Commonweal

"Audacious and captivating . . . Pearl's Dante scholarship is truly admirable, and hats off to anyone who's this passionate about the crazy Florentine—or, indeed, to anyone who's this passionate about anything. . . . Don't be surprised if, after having read The Dante Club, you find yourself revisiting your old tattered college-issued Inferno."—Esquire

"A thriller with resonance. Pearl has achieved that intoxicating blend of reality and imagination that Doctorow gave us . . . with Ragtime."—The Orlando Sentinel

"Delightful and suspenseful, an unexpected story about Boston's literary giants tracking a post–Civil War serial killer . . . a unique, ambitious, entertaining read, a historical thriller with a poetic streak."—Baltimore Sun

"There aren't many writers around who can remind you of both James Patterson and Umberto Eco."—San Jose Mercury News

"Like the great Italian poet himself, Pearl also shows a flair for suspenseful plotting and gruesome descriptions. . . . Pearl masterfully synthesizes countless aspects of mid-nineteenth-century life into a riveting mystery that creeps through all corners of crippled postwar Boston."—Time Out New York

"A hellacious romp of a novel."—The Plain Dealer

"The author achieves the right richness of detail, illuminating but never getting in the way of the story."—The Denver Post