Washita Memories: Eyewitness Views of Custer's Attack on Black Kettle's Village (Paperback)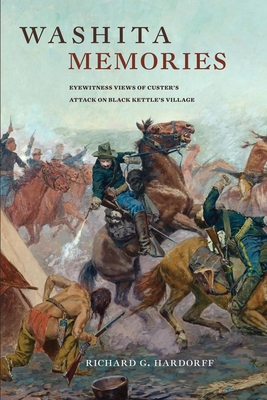 Description
---
The Battle of the Washita is one of the most tragic--and disturbing--events in American history. On November 27, 1868, the U.S. Cavalry under Lt. Col. George Armstrong Custer attacked a peaceful Southern Cheyenne village along the Washita River in present-day western Oklahoma. This U.S. victory signaled the end of the Cheyennes' traditional way of life and resulted in the death of Black Kettle, their most prominent peace chief.
In this documentary history, Richard G. Hardorff presents a broad range of views of the Washita battle. Eyewitnesses to the destruction of the Southern Cheyenne village included soldiers, officers, tribal members, Indian and white scouts, and government officials. Many of these witnesses recorded their memories of the event. The records they left vary from oral accounts handed down through Cheyenne families to personal letters, diary entries, newspaper columns, and even official government files. With Washita Memories, Hardorff has collected these surviving documents into a one-of-a-kind primary resource.
Each document is reproduced in full with an introduction and extensive annotation, and a general introduction places the campaign and its aftermath in historical context. Hardorff also provides fourteen detailed maps of the battle site and campaign routes.