Korean Hangul for Beginners: Say It Like a Korean: Learn to Read, Write and Pronounce Korean - Plus Hundreds of Useful Words and Phrases! (Free Downlo (Paperback)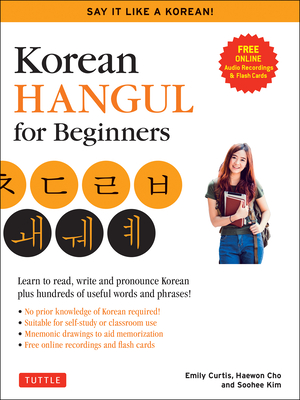 $14.99

Usually Ships in 1-5 Days
Description
---
An interactive workbook for beginners to learn how to write and read Korean quickly
This easy workbook has everything you need to learn the Korean scripts--clear explanations, plentiful practice exercises, and free online audio recordings by native speakers. No prior knowledge of Korean is needed Even if you're a complete beginner, you'll soon be reading and writing Korean with confidence. This book gives you a thorough grounding in the written Korean language, including its history and basic principles, the correct alphabet order, and clear instructions on how to read, write, and pronounce all the letters. The book is divided into three sections:
Section 1: Vowels and Consonants. Shows you how the individual Korean letters are written and pronounced and how they are combined to formed syllables and words.
Section 2: "Say It Like a Korean " Teaches you to pronounce the sounds of Korean naturally.
Section 3: Reading and Writing Practice. Fun exercises to reinforce your skills and expand your vocabulary--with useful everyday topics such as numbers, days of the week, places, shopping, and food.
The ability to recognize, write, and pronounce Korean Hangul is reinforced through plentiful writing and listening exercises. Helpful drawings assist you to learn and remember the letters, while detailed guides show various handwriting styles and examples of poor letter formation. Printable flashcards to accompany the text are available for free online and help you to memorize and review what you learn. The approachable, conversational tones of this workbook combined with the highly effective exercises make this a perfect introduction to Hangul for beginning Korean language learners.
About the Author
---
Soohee Kim received her Ph.D. in Linguistics from the University of Washington, where she taught Korean language, culture and linguistics for 17 years. She enjoys learning new languages, some of which include Lushootseed and Italian. She is the author of Korean Flash Cards and the lead author of the Korean textbooks You Speak Korean! and Easy Korean. Haewon Cho is the Director of the Korean Language Program and a Lecturer in Foreign Languages of Korean in EALC at the University of Pennsylvania, specializing in Korean language pedagogy and business language instruction. She has extensive teaching experience and has taught all levels of Korean language courses at various institutions such as University of Michigan and Middlebury College. She is a co-author of You Speak Korean, Korean Grammar: The Complete Guide to Speaking Korean Naturally, and Easy Korean. She holds M.A. degrees in Linguistics and Teaching ESL from the University of Washington. Emily Curtis holds a Ph.D. in Linguistics and an Ed.D. from the University of Washington. She teaches courses in general linguistics, phonology and morphology at Western Washington University and is a consultant in intercultural communication and language pedagogy. Her research interests are in phonology, heritage language and metalinguistic awareness. She has studied French, Japanese, Korean, Mandarin, Spanish and Lushootseed and is the co-author of the Korean textbook series You Speak Korean! as well as Easy Korean.