No Billionaire Left Behind: Satirical Activism in America (Paperback)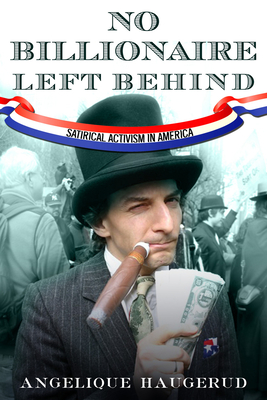 $26.00

Usually Ships in 1-5 Days
Description
---
Growing economic inequality, corporate influence in politics, an eroding middle class. Many Americans leave it to politicians and the media to debate these topics in the public sphere. Yet other seemingly ordinary Americans have decided to enter the conversation of wealth in America by donning ball gowns, tiaras, tuxedos, and top hats and taking on the imagined roles of wealthy, powerful, and completely fictional characters. Why? In No Billionaire Left Behind, Angelique Haugerud, who embedded herself within the "Billionaires" and was granted the name "Ivana Itall," explores the inner workings of these faux billionaires and mines the depths of democracy's relationship to political humor, satire, and irony.
No Billionaire Left Behind is a compelling investigation into how satirical activists tackle two of the most contentious topics in contemporary American political culture: the increasingly profound division of wealth in America, and the role of big money in electoral politics. Anthropologist and author Angelique Haugerud deftly charts the evolution of a group named the Billionaires-a prominent network of satirists and activists who make a mockery of wealth in America-along with other satirical groups and figures to puzzle out their impact on politics and public opinion. In the spirit of popular programs like The Colbert Report and The Daily Show, the Billionaires demonstrate a sophisticated knowledge of economics and public affairs through the lens of satire and humor. Through participant observation, interviews, and archival research, Haugerud provides the first ethnographic study of the power and limitations of this evolving form of political organizing in this witty exploration of one group's efforts to raise hope and inspire action in America's current political climate.
About the Author
---
Angelique Haugerud is Associate Professor of Anthropology at Rutgers University and Editor of American Ethnologist.
Praise For…
---
"Angelique Haugerud's accessible and engaging book is important reading for anyone interested in the optimism of political satire, the hope that motivates activism, the clarity of critique, and the beauty of great ethnography. In Leave No Billionaire Behind, Haugerud deftly combines economic anthropology, activism, performance, and the literature from news and journalism to build her powerful portrait of what The Billionaires are trying to accomplish and why."—Catherine Besteman, Colby College

"This hilarious book addresses today's most pressing issues—social justice, skewed distributions of wealth and income, movements for change—and brilliantly reveals how whacky activists challenge the establishment and overly serious protest movements. Haugerud's book is a welcome addition to the appallingly dry corpus of much social movement scholarship."—Marc Edelman, Hunter College and the CUNY Graduate Center

"This brilliant study of the 'Billionaires for Bush' explains how and why irony has become such a powerful vehicle of political sincerity in the age of neoliberal monology. Whether or not one believes that satire is capable of reopening the terms of political discourse in the West by itself, we would all do well to heed Haugerud's persuasive argument that parody has potential to 'defamiliarize the familiar' by surfacing and inverting our conventions of understanding the world. Activists like the Billionaires have generated political effects, she shows us, by occupying the language of power."—Dominic Boyer, Rice University

"In this pathbreaking book Angelique Haugerud presents a highly original account of novel forms of activism and engagement that seek to redefine the parameters of the political. It is difficult to imagine a more important or timely contribution to the comparative study of politics."—David Nugent, Emory University