Stones of Hope: How African Activists Reclaim Human Rights to Challenge Global Poverty (Stanford Studies in Human Rights) (Hardcover)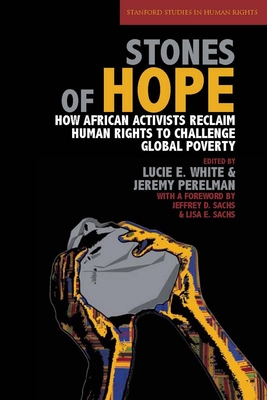 $85.00

Usually Ships in 1-5 Days
Description
---
Many human rights advocates agree that conventional advocacy tools-- reporting abuses to international tribunals or shaming the perpetrators of human rights violations--have proven ineffective. Increasingly, social justice advocates are looking to social and economic rights strategies as promising avenues for change. However, widespread skepticism remains as to how to make such rights real on the ground.
Stones of Hope engages with the work of remarkable African advocates who have broken out of the conventional boundaries of human rights practice to challenge radical poverty. Through a sequence of case studies and interpretive essays, it illustrates how human rights can be harnessed to generate democratic institutional innovations. Ultimately, this book brings the reader down from the heights of official human rights forums to the ground level of advocacy. It is a must-read for human rights advocates, development practitioners, students, educators, and all others interested in an equitable global society.
About the Author
---
Lucie E. White is Louis A. Horvitz Professor of Law at Harvard Law School. Jeremy Perelman is Lecturer-in-law at Columbia Law School and a doctoral candidate at Harvard Law School.
Praise For…
---
"Stones of Hope is a terrific book that should be required reading for anyone interested in pragmatic advocacy for economic and social rights . . . [It] provides the rare experience of reading a book that is simultaneously inspiring, analytical, and provocative. Above all, it demonstrates that the effort to make human rights relevant to the world's billion people in poverty is a worthwhile and realistic struggle."—Dan Chong, Human Rights Quarterly

"Stones of Hope is a foundational contribution to the law and social change field. The book is impressive for both what it does . . . and how it does it . . . [Stones of Hope is] a stunning achievement that lives up to its brilliantly evocative title. It is, in my view, essential reading not only for those who care about the sociology of law, but for all students and practitioners who care about using law to make the world more just and humane. In this sense, Stones of Hope is a model of what legal scholarship should be: academically rigorous and—most importantly—deeply engaged in the project of social justice. That is the stone that we all should carry forth."—Scott L. Cummings, Journal of Legal Education

"[A]n optimistic and progressive book . . . innovative . . . Some book reviews take it as their objective to convince their audience to read the book under review. This is one of those."—Jonathan Klaaren, South African Journal on Human Rights

"[White and Perelman's] introduction, two theoretical essays, and epilogue underscore common strands in strategies, norm-building innovations, and the generation of institutional renovation rooted in ESR. Not unexpectedly, the case studies reveal very diverse contexts, experiences, and outcomes, not a general model of public agitation and government response. Nevertheless, the essays find creative local strategies and offer new insights into the roles of lawbreaking and lawmaking in the process of social change and public policy evolution . . . Recommended."—J. P. Smaldone, CHOICE

"Stones of Hope presents an unusual set of case studies and theoretical essays on innovative human rights activism arising from Africa. The material on the innovative civil society initiatives in the legal and educational spheres to implement a right of access to health care in South Africa is extremely impressive and, on its own, makes this volume required reading."—Albie Sachs, human rights activist, former member of South Africa's Constitutional Court