Act of God: A Novel (Vintage Contemporaries) (Paperback)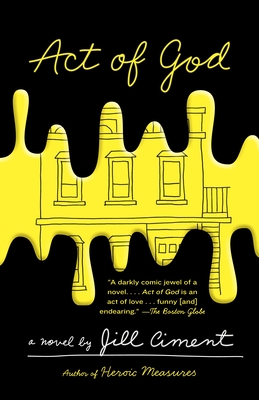 Description
---
It's the summer of 2015, Brooklyn, and the city is sweltering from another record-breaking heat wave, this one accompanied by biblical rains. Edith, a recently retired legal librarian, and her identical twin sister, Kat, have discovered something ominous in their hall closet: it's shaped like a mushroom, it's phosphorescent, and it's rapidly consuming their wall. But that's only the beginning …
 
Part suspense, part screwball comedy, Jill Ciment's brilliant novel looks at what happens when our lives—so seemingly set and ordered—break down in the wake of calamity.
About the Author
---
JILL CIMENT was born in Montreal, Canada. She is the author of Small Claims, a collection of short stories and novellas; the novels The Law of Falling Bodies, Teeth of the Dog, The Tattoo Artist, and Heroic Measures; and a memoir, Half a Life. She has been the recipient of numerous grants and awards, among them a National Endowment for the Arts fellowship, two New York Foundation for the Arts fellowships, the Janet Heidinger Kafka Prize, and a Guggenheim fellowship. Ciment is a professor at the University of Florida. She lives in Gainesville, Florida, and Brooklyn, New York.
Praise For…
---
"A darkly comic jewel of a novel . . . Act of God is an act of love, one that is no less funny or endearing for the toughness with which it is bestowed." —The Boston Globe


"Reads like an urbane spin on the Book of Job. . . An antic yet poignant study of who you become when you lose everything . . . Laugh-out-loud funny. . . . Invigoratingly unpredictable." —Seattle Times

  
"In this swiftly paced, niftily written comedy turned horror novel, even the most settled lives are upended, the tiniest character flaws come back to bite, and love and redemption arrive when you least expect them." —More


"A compact, droll farce, light-hearted and pleasurable as a chocolate truffle, yet with a nugget of hard, somewhat unpalatable truths in the center . . . Ciment has the bracing mindset of Ambrose Bierce or Mark Twain, George Alec Effinger or Tom Disch." —Locus Magazine


"This novel breezes along, fizzing with wit as it sails . . . Ms. Ciment's interestingly quirky — but not cute — characters suggest human buoyancy, while her deft sentences and cleverly chosen details set a bracing pace that keeps the full force of the novel's questions about responsibility and forgiveness in check until the last page is turned. Then readers may look back and consider what we might really mean by an act of God." —The Washington Times

 
"[Ciment's] marvelous complexity as an artist is that her two final scenes mingle horror, humor, and tenderness as they lead us toward a final image that perfectly captures the damaged grandeur of the human condition. That's always her essential subject, whether she's cracking jokes about it or plumbing its sorrows—usually both at the same time." —The Daily Beast

 
 "Remarkable . . . a novel that is as surprising and moving as nature itself . . . Act of God is a work to be treasured, respected and, most of all, enjoyed — like life itself."  —Cedar Rapids Gazette

 
"Rich, quirky characterizations, witty insights into human nature and cruel twists of fate turn the initial absurdity of the narrative into a profound, suspenseful story . . . thoroughly entertaining and unforgettable." —Shelf Awareness
 
"In a feat of literary magic, Ciment slips an abundance of suspenseful action, incisive humor, far-ranging wisdom, and complex emotion into this inventive, caring, devour-all-at-once novel of self, family, community, and doing right." —Booklist


 "Keenly intelligent . . . Ciment orchestrates an increasingly complicated plot with consummate skill." —BookPage

 
 
"Beautiful, tightly controlled, and fascinating . . . A winner." —Bookriot.com
 

 
"Humanity, warmth and wry humor light up Ciment's noirish novel . . . This absorbing novel about a luminescent fungus affixes itself to your psyche like a spore and quickly spreads to your heart, setting everything in its wake aglow." —Kirkus (Starred Review)