Books and Islands in Ojibwe Country: Traveling Through the Land of My Ancestors (Paperback)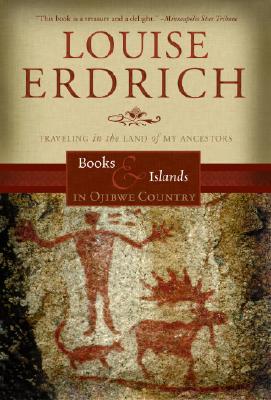 $12.95
Email or call for price.
Description
---
For more than twenty years Louise Erdrich has dazzled readers with the intricately wrought, deeply poetic novels which have won her a place among today's finest writers. Her nonfiction is equally eloquent, and this lovely memoir offers a vivid glimpse of the landscape, the people, and the long tradition of storytelling that give her work its magical, elemental force. In a small boat like those her Native American ancestors have used for countless generations, she travels to Ojibwe home ground, the islands of Lake of the Woods in southern Ontario. Her only companions are her new baby and the baby's father, an Ojibwe spiritual leader, on a pilgrimage to the sacred rock paintings their people have venerated for centuries as mystical "teaching and dream guides," and where even today Ojibwe leave offerings of tobacco in token of their power. With these paintings as backdrop, Erdrich summons to life the Ojibwe's spirits and songs, their language and sorrows, and the tales that are in their blood, echoing through her own family's very contemporary American lives and shaping her vision of the wider world. Thoughtful, moving, and wonderfully well observed, her meditation evokes ancient wisdom, modern ways, and the universal human concerns we all share. "This book is a treasure and a delight."--Minneapolis Star Tribune
About the Author
---
Louise Erdrich, daughter of an Ojibwe-French mother and a German-American father, is one of our foremost contemporary writers. Her first novel, Love Medicine, won the National Book Critics Circle Award and other prizes and launched a remarkable string of books that includes The Beet Queen, The Bingo Palace, Tales of Burning Love, and The Antelope Wife, among other triumphs. She lives in Minneapolis.