Oysters: A Celebration in the Raw (Hardcover)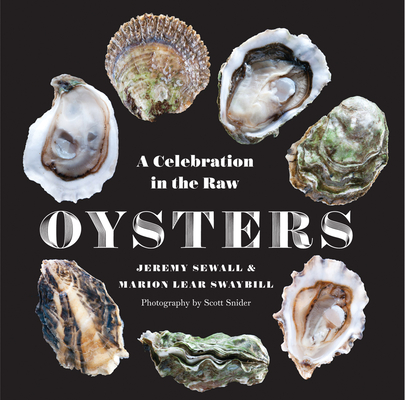 $24.95
Usually Ships in 1-5 Days
Description
---

Oysters: A Celebration in the Raw is true to its title from start to finish. Chapter One is a primer on all things oyster. Chapter Two introduces readers to legendary oystermen and women from around the country. Chapter Three offers exquisite photographs of more than fifty varieties of North American oysters, along with flavor profiles and "merroir." Oysters: A Celebration in the Raw concludes with highlights from the oyster timeline, depictions of oysters in art through the ages and stories of oysters as aphrodisiacs, and parses oyster myths and metaphors. The book also features an oyster glossary and resource list. It is the only book of its kind?a definitive visual companion to this iconic, much loved mollusk.

Overflowing with gorgeous original photography and fascinating anecdotes, Oysters: A Celebration in the Raw is the perfect book for oyster aficionados and newbies, foodies and chefs of all stripes, lovers of photography and art, the environment, history, and the sea.

About the Author
---
Marion Lear Swaybill is an Emmy award-winning television producer, writer, and pioneering media executive. As Director of Program Acquisitions at PBS station WNET, (1981-1989), Swaybill was on the cutting edge of the food-on-television revolution, introducing New York public television audiences to luminary chefs including Madhur Jaffrey, Lidia Bastianach, Martin Yan, Jacques Pepin, Britain's memorable "Two Fat Ladies" and many others. A cook as well as a writer, her recipes have appeared in the "Great Cooks Guide" series (Random House) and New England's "Sound Magazine." Jeremy Sewall is an award-winning chef and restaurateur based in Boston and two-time James Beard Award nominee. Trained at the Culinary Institute of America, he has cooked in kitchens around the globe, focusing on seasonal ingredients and his New England food heritage. His restaurants Lineage, Eastern Standard, Island Creek Oyster Bar, and Row 34 have received accolades from New York Times, Esquire, Gourmet and The Boston Globe, among others. Scott Snider is an award-winning natural history filmmaker whose work takes him around the world as an accomplished underwater, long lens, and macro cinematographer. Scott has over 45 major credits for National Geographic, PBS Nature, Discovery Channel, Animal Planet, the National Park Service and others. He is the founder of Half Moon Productions, a film and photography studio based in Charleston, South Carolina.