Ada Blackjack: A True Story of Survival in the Arctic (Hardcover)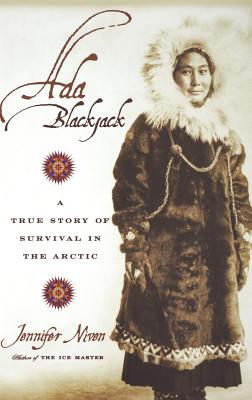 $30.00

Usually Ships in 1-5 Days
Description
---
From the author of The Ice Master comes the remarkable true story of a young Inuit woman who survived six months alone on a desolate, uninhabited Arctic island

In September 1921, four young men and Ada Blackjack, a diminutive 25-year-old Eskimo woman, ventured deep into the Arctic in a secret attempt to colonize desolate Wrangel Island for Great Britain. Two years later, Ada Blackjack emerged as the sole survivor of this ambitious polar expedition. This young, unskilled woman--who had headed to the Arctic in search of money and a husband--conquered the seemingly unconquerable north and survived all alone after her male companions had perished.

Following her triumphant return to civilization, the international press proclaimed her the female Robinson Crusoe. But whatever stories the press turned out came from the imaginations of reporters: Ada Blackjack refused to speak to anyone about her horrific two years in the Arctic. Only on one occasion--after charges were published falsely accusing her of causing the death of one her companions--did she speak up for herself.

Jennifer Niven has created an absorbing, compelling history of this remarkable woman, taking full advantage of the wealth of first-hand resources about Ada that exist, including her never-before-seen diaries, the unpublished diaries from other primary characters, and interviews with Ada's surviving son. Ada Blackjack is more than a rugged tale of a woman battling the elements to survive in the frozen north--it is the story of a hero.
About the Author
---
Jennifer Niven
's first book,
The Ice Master
, was named one of the Top Ten Nonfiction Books of the Year by
Entertainment Weekly
and was selected for the Barnes and Noble Discover Great New Writers program. The book, which has been translated into nine languages, has been featured in such publications as
Newsweek
, the
New York Times
,
Glamour
, the
Washington Post
,
Outside
, and
Writer's Digest
, and was the subject of full-length documentaries on
Dateline NBC
and the Discovery Channel. For more information, visit
www.jenniferniven.com
.
Praise For…
---
"The beauty of Niven's tale reveals itself slowly, in hard-to-find bits and pieces, mirroring the piecemeal dawning of dread that blanketed the book's five protagonists one winter in 1923 on a bleak Arctic island. "—Publishers Weekly